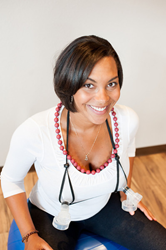 76% of Mothers responding to survey experienced decreased pumping times
Kissimmee, FL (PRWEB) June 24, 2014
A recent survey by LactaMed reveals surprising results. Over 76% of mothers who use Simplicity Hands Free Pumping Bra Kit + massage reported faster pumping times for breast feeding. Breast pumping is a necessity for many mothers; however, it can also be a chore. Simplicity is a new patent pending design made to transform the experience of breast pumping—to make a difference in the lives of new mothers by providing a hands free and time saving approach-and enabling massage.
"Breast pumping is a real chore for me," states Amanda, a survey participant and new mother. "Using the massage method with Simplicity definitely increased pumping speed. Simplicity has cut down my pumping time by 25%, with more milk volume. Anything that saves time is great for me!" She states. Another survey participant, Becky explains, "I hate pumping, but Simplicity makes me feel much better about it."
The survey found that 76% of breast feeding women who utilize the massage plus pumping method experience faster pumping times, and believe this method is the best approach. Some responses form survey participants include, "twice as fast", "5-10 minutes less" or "a bit less". "The fact that a large number of women (76%) reported faster pumping times when massaging, indicates that further study of this phenomena should be explored," suggests Melinda Berry, VP of LactaMed. The summary of the survey results can be found here.
Melinda Berry ensures, "We have contacted premier researchers to validate these results. Our survey suggests that breast feeding women prefer using the massage plus pumping method for breast pumping, but we believe a more vigorous study is required to confirm this method as the best approach. Our Simplicity Hands Free Bra easily enables the massage plus pumping approach, while older corset style pumping bras tend to be more restrictive."
The Hands on Pumping method for breast feeding has been studied some researchers. This method is known to produce higher milk volumes and richer hind milk (Dr. Jane Morton). For more information and copies of publicly available studies, please visit http://www.lactamed.com.
Massage plus pumping is easy and efficient with the new Simplicity Hands Free Pumping Bra. For NICU moms pumping 8-10 times a day, saving 5-6 minutes per session can free up over a half hour a day. LactaMed is making a difference with this patent pending design by empowering new mothers with a hands free and time saving approach. Some additional features of Simplicity include, adjustability, compactness and ease of use. Many Neonatal Intensive Care Units, WIC offices and corporate lactation programs have shown interest in Simplicity for its low cost and simple implementation. More information about the patent pending Simplicity Bra can be seen here.
About LactaMed:
LactaMed is dedicated to helping break the barriers to long-term breastfeeding success and is open to creative ideas and approaches to achieve this success. Because pumping rich hind milk has immense benefits to newborns, it is LactaMed's mission to provide quality, efficient and creative products to new moms.
Contact
LactaMed Inc.
Melinda Berry
VP Marketing
866-322-2471 x 303
http://www.lactamed.com