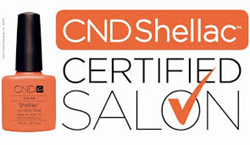 "Our CND Shellac Salon Certification Program will ensure the ultimate experience for clients and will provide a great incentive to Nail Professionals to provide exemplary CND Shellac services," says CND Co-Founder, Jan Arnold.
Orlando, FL (PRWEB) July 24, 2014
Orlando nail salon professionals and consumers can attest all nail services are not created equal. So what happens when consumers ask for a Creative Nail Design (CND) Shellac Power Polish service, but receive something completely different (although they may be told its CND Shellac)? CND hears stories continually about women who have unintentionally tried "gel-polish" and Shellac pretenders, and then ruined their nails trying to remove it.
Now Orlando's nail clients can be reassured that the CND Shellac services they receive have CND's official seal of approval, by visiting Orlando nail pro's True Envy Salon. Certified Orlando nail salon True Envy has met the necessary requirements and have all the essential materials to provide the 14-day flawless wear, mirror shine and zero dry time CND Shellac Service.
"CND ShellacPro Certification is the natural next step to continue supporting our devoted Nail Professionals across the United States," says Jan Arnold, CND Co-Founder.
The service providers of True Envy Salon became certified by attending the CND ShellacPro Certification course, the Master Painter Class and successfully passing the certification quizzes for both events. This program will make certain that every Certified CND ShellacPro is well-versed on the system to ensure clients consistently receive Superior CND Shellac Services.
Clients interested in a 14-day flawless Shellac manicure or pedicure, a hand or foot consultation can reach True Envy Salon at the information listed below.
True Envy Salon
4997 S. Orange Ave.
Orlando, FL 32806
Phone: (407) 286-4857
Email: Salon(at)trueenvysalon(dot)com
Website: http://www.trueenvysalon.com
Online Appointments: http://www.trueenvysalon.com/online-booking/
About True Envy Salon:
True Envy Salon is a full-service hair and nail salon located in Orlando, Florida. True Envy Salon is dedicated to service and value. All of the licenses specialists promise individual attention and a great value for their customers. The services provided by True Envy Salon include hair and nail care services, bridal services, makeup application, and other a la cart salon treatments.