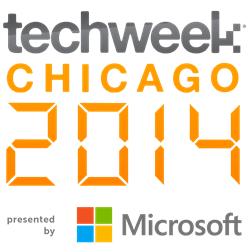 Chicago, IL (PRWEB) June 19, 2014
Techweek, the nation's leading technology conference and festival showcasing, celebrating and enabling emerging innovation ecosystems, will host its 4th Annual Techweek Chicago presented by Microsoft on June 23-29. Techweek Chicago is the largest technology conference in the Midwest, dedicated to bringing together entrepreneurs, visionaries, influencers and thought leaders under a single 7-day "big tent" of remarkable collaboration and engagement, culminating with the conference and expo on June 26-28 at the Merchandise Mart.
Techweek Chicago will celebrate the unique intersections in technology, including those in education, finance, startups, entertainment, fashion, gaming and more. Techweek Chicago aims to provide an open space for all who are passionate about technology to be a part of the conversation – this year, Techweek Chicago will feature:

High-Profile Speakers: Techweek Chicago will showcase influential leaders and influencers in technology in nine summits focusing on trends, innovation, growth, action and change within the greater tech industry. Notable names include: Brenna Berman, commissioner and CIO of the City of Chicago, who will give the opening remarks and discuss the growth in the tech industry in Chicago; Ryan Ozonian, president at Cyber Dust, who will share his entrepreneurial experiences; Kathryn Minshew, co-founder and CEO of The Muse, who will speak about navigating through the startup world; and Jeff Hoffman, partner and co-founder of ColorJar, founder of Priceline, who will provide insight into finding success as a startup.
LAUNCH Competition: Pre-qualified startups will compete for cash and sponsor-donated gifts valued at $50,000 from noon-5pm on Thursday, June 26. Each participating startup will pitch its business and will be judged by a panel of top tech and business leaders who will decide the winner of the LAUNCH Competition.
Hiring Fair: Whether you're in search of a job or a developer looking to bring your idea to fruition, the Hiring Fair is about matching talented people with the right jobs. The Hiring Fair attracts more than 50 top businesses, ranging from startups to well-established tech brands. Attendees who bring a resume will be granted complimentary access to the Hiring Fair. Techweek Chicago will host a tech Hiring Fair from noon-5pm on Friday, June 27.
Future Sound Music Festival: The intersection between music and technology will be explored during the inaugural Future Sound Music Festival on June 26-28, on the South Drive Stage at the Merchandise Mart. Major artists such as St. Lucia and Morgan Page will be putting on incredible shows which emphasize technology's role in the future of music.
FashionTECH Runway Show: The FashionTECH Runway Show will highlight the latest innovations in wearable technology and e-commerce. The show will also include top tech CEOs on the runway, showcasing the latest in fashion tech trends from e-commerce and wearable tech leaders, including: Central Standard Timing, The Empowerment Plan, Garmin, Giftbar, LUNATIK, Misfit Wearables, The Tie Bar and other local Chicago brands. The FashionTECH Runway Show will be at 7pm on Tuesday, June 24, at the W Hotel, 172 W Adams St.
Hackathon: The Hackathon is a day of development fueled by participants passions for business, innovation and technology. Techweek Chicago's Hackathon, presented by AngelHack and Rackspace, will feature more than 50 developers, designers, and entrepreneurs looking to create the next best web or mobile app. The event starts at noon on Friday, June 27 and concludes at 6pm on Saturday, June 28.
"We are excited to bring Techweek home to Chicago for the fourth year with the goal of strengthening and encouraging innovation and collaboration within the community," said Iain Shovlin, Chairman of Techweek. "Techweek Chicago will bring together remarkable ideas, important conversations and an incredible experience to provide a platform on which to unite those who are passionate about technology. Techweek is proud to provide remarkable speakers and opportunities to truly achieve our mission to celebrate, showcase and enable innovation ecosystems."
Top sponsors of Techweek Chicago include: Dropbox, Gogo Air, Microsoft, Salesforce and Southwest Airlines.
To learn more about Techweek Chicago or to register, visit http://techweek.com/chicago.
###
ABOUT TECHWEEK
Techweek is a seven-day conference, expo and festival where entrepreneurs, tech visionaries and thought leaders meet to enable the innovation ecosystem in the cities of Chicago, Detroit, Los Angeles, Miami and New York. Techweek curates compelling programming that allows a global spotlight to shine on each ecosystem and its leaders. Past speakers include Rahm Emanuel (Mayor, Chicago), Travis Kalanick (CEO, Uber), Craig Newmark (Founder, Craigslist), Barney Harford (CEO, Orbitz), Dan Gilbert (Founder, Quicken Loans), Peter Diamandis (Founder, X PRIZE) and Pitbull (World renowned musician). The Techweek expo has gathered more than 200 sponsors, including companies such as Google, Groupon, Microsoft, Motorola, Redbox, Uber and Wordpress. The after-parties at Techweek have become famous for events like the Bootlegger's Ball, attracting sports teams such as Stanley Cup Champions the Chicago Blackhawks and for hosting entertainers like Calvin Harris.