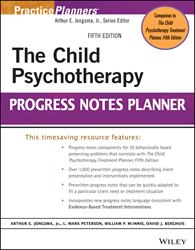 (PRWEB) June 19, 2014
There never seem to be enough hours in the day, but The Child Psychotherapy Progress Notes Planner, Fifth Edition (Wiley, June 2014; $60.00) can change that for psychologists, therapists, counselors, social workers, psychiatrists and other mental health professionals. They can save hours normally spent on time-consuming paperwork by adapting the over 1,000 prewritten progress notes summarizing patient presentation and treatment delivered to develop their own customized progress notes.
Organized around 35 main presenting problems, from academic underachievement and obesity to ADHD, anger control problems, and autism spectrum disorders, this guide provides an array of treatment approaches that correspond with the behavioral problems and DSM-5 diagnostic categories.
The Child Psychotherapy Progress Notes Planner, Fifth Edition is companion to The Child Psychotherapy Treatment Planner, Fifth Edition, and offers sample progress notes that conform to the requirements of most third-parties and accrediting agencies, including CARF, TJC and NCQA, and it presents new and updated information on the role of evidence-based practice in progress notes writing and the special status of progress notes under HIPAA.
About the authors:
Arthur E. Jongsma, JR., PHD, is the Series Editor for the bestselling PracticePlanners®. Since 1971, he has provided professional mental health services to both inpatient and outpatient clients. He was the founder and director of Psychological Consultants, a group private practice in Grand Rapids, Michigan, for twenty-five years. He is the author or coauthor of over fifty books and conducts training workshops for mental health professionals around the world.
L. Mark Peterson, ACSW, is Program Manager for Bethany Christian Services' Residential Treatment and Family Counseling programs in Grand Rapids, Michigan.
William P. Mcinnis, PSYD, is in private practice with Aspen Psychological Services in Grand Rapids, Michigan. He is coauthor of the bestselling The Child Psychotherapy Treatment Planner and The Adolescent Psychotherapy Treatment Planner.
David J. Berghuis, MA, LLP, is in private practice and has worked in community mental health for more than a decade. He is also coauthor of numerous titles in the PracticePlanners® series.
The Child Psychotherapy Progress Notes Planner, 5th Edition
By Arthur E. Jongsma, Jr., L. Mark Peterson, William P. McInnis, and David J. Berghuis
Wiley / 978-1-118-06677-5/ June 2014
For more info, visit http://www.wiley.com
About Wiley:
Founded in 1807, John Wiley & Sons, Inc. has been a valued source of information and understanding for more than 200 years, helping people around the world meet their needs and fulfill their aspirations. Wiley and its acquired companies have published the works of more than 450 Nobel laureates in all categories: Literature, Economics, Physiology or Medicine, Physics, Chemistry, and Peace.
Our core businesses publish scientific, technical, medical, and scholarly journals, encyclopedias, books, and online products and services; professional/trade books, subscription products, training materials, and online applications and Web sites; and educational materials for undergraduate and graduate students and lifelong learners. Wiley's global headquarters are located in Hoboken, New Jersey, with operations in the U.S., Europe, Asia, Canada, and Australia. The Company's Web site can be accessed at http://www.wiley.com. The Company is listed on the New York Stock Exchange under the symbols JWa and JWb.