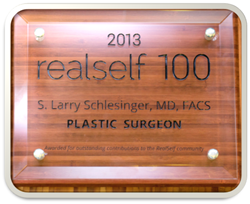 Honolulu, HI (PRWEB) June 30, 2014
RealSelf.com has awarded its most coveted award, the RealSelf 100, to Dr. Larry Schlesinger of Honolulu, Hawaii. The accolade recipients are selected from a community of over 6,000 specialty physicians based on criteria, which includes patient reviews and consumer feedback.
Tom Seery, CEO and Founder of RealSelf, also recognized Dr. Schlesinger as a leading social media influencer in cosmetic surgery. "By engaging at this level, he has helped set the standard of excellence in consumer education," said Seery.
S. Larry Schlesinger, MD, F.A.C.S., is a board-certified plastic surgeon with more than 30 years of plastic surgery experience in Hawaii. He has performed more than 20,000 plastic surgery procedures.
A native of Detroit, Dr. Schlesinger took his premedical studies at the University of Michigan, and medical studies at the Medical College of Virginia where he was the highest honor graduate. He served his surgical residency at Stanford University Medical Center, and his plastic surgery residence at Oklahoma Health Science Center where he is a visiting professor of surgery.
Dr. Schlesinger is a member of the American Society for Aesthetic Plastic Surgery, a group of the most dedicated board certified surgeons specializing in cosmetic surgery. He is also a Diplomat of the American Board of Plastic Surgery, a Fellow of the American College of Surgeons, and an Active Member of the American Society of Plastic Surgeons (ASPS). To be an active member of ASPS, Dr. Schlesinger had to have completed four years of medical school, three years of clinical training in general surgery, a residency of at least two years in an accredited plastic surgery hospital program, taken and passed intensive board exams, and have passed the scrutiny of his peers.
BreastAugmentation.com has also recognized Dr. Schlesinger as a 2014 Top Doctor.
Dr. Schlesinger's contact information:
Oahu Breast Implant Center
1221 Kapiolani Blvd. Suite 1025
Honolulu, HI 96814
(808) 597-8835
Kona/Hilo Breast Implant Center
75-5665 Kuakini Highway
Kailua-Kona, HI 96740
(808) 329-6767
Mommy Makeover Institute of Hawaii
Hale Pawaa
1401 S. Beretania St.
Honolulu, HI 96813
(808) 695-2400