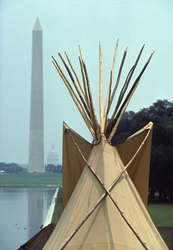 ...We are the image keepers of history.
Cody, WY (PRWEB) June 20, 2014
Ken Blackbird's lineage is Gros Ventre/Assiniboine, and he is an enrolled member of the Fort Belknap Indian Community of Montana. A photojournalist and freelance photographer in a career that spans more than 30 years, his work on modern life in Cuba was recommended for a Pulitzer Prize in 2001. To date, he remains the only American Indian photographer nominated for this prestigious award. A graduate of the University of Montana's School of Journalism, he has lived in the Cody, Wyoming, area for many years.
Out of many thousand images, Blackbird has chosen a select few for the exhibition, representing the richness of Indian culture, the drama and timing of rodeo, and the unique qualities of western landscapes. Though his photographs recall a rich tradition, the vitality of Native American life today is his subject, conveyed poignantly and passionately through his lens.
On view through December 31, 2014, "Textured Portraits" received support from the Wyoming Humanities Council; WESTAF (Western States Arts Federation); the Wyoming Arts Council; and the National Endowment for the Arts.
Read more about this and other Center of the West exhibitions on the Center's website by clicking "Exhibitions" at the bottom of the home page. For more information about the Ken Blackbird Collection, contact Mary Robinson, Housel Curator of the Center's McCracken Research Library at 307-578-4063.
Since 1917, the award-winning Buffalo Bill Center of the West has devoted itself to sharing the story of the authentic American West. The Center, an affiliate of the Smithsonian Institution, is now operating its summer schedule, open daily 8 a.m. – 6 p.m. For additional information, visit the Center's website or its pages on Facebook and Google+.