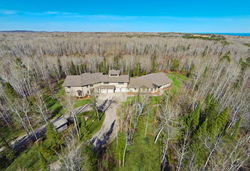 Scott Kirk, Founder and President of Interluxe, said, "We are delighted to expand Interluxe's presence in the Minnesota market with the sale of this distinguished Twin Ports property."
Charlotte, NC (PRWEB) June 19, 2014
Interluxe, the leader in luxury property auctions online, is proud to showcase one of the most desirable homes in the Twin Ports area. This outdoorsman's paradise sits on 29± pristine acres with direct access to plenty of outdoor recreation opportunities like hunting, hiking, horseback riding, snowmobiling, and ATV riding. A crystal-clear river flows year round for more than a half-mile through the grounds. The home sits just minutes from the emerald waters of Lake Superior and some of the best sailing and fishing in the world.
The home is being offered in cooperation with Lynn Bentfield of Edina Realty. Said Bentfield, "It's pretty rare when a magnificent French River property with so many amenities like this one comes up for sale. It's even more unusual to allow buyers to name their own price for it. This is an uncommon opportunity for a smart buyer to get a great value on their dream home."
Absolutely no expense was spared in the design and construction of this estate, conveniently located just minutes from downtown Duluth. Custom built in 2007 and previously listed at $2.2 million, this home features exceptional amenities such as a four-car garage, elevator with services to all floors, wrap-around Trex Decking with an outdoor Jacuzzi, and an observation deck with stunning views of Lake Superior. Numerous photos and lots more details are available online at: Duluth Mansion.
The interior of the home has fine finishes and modern comforts one would expect. This immaculately designed estate has 10,000± sq feet of living space with a functional design that blends architectural form and natural light to create the warm feelings of home. Each of the home's five bedrooms has a walk-in-closet, lots of natural light, and an en suite bathroom. The rest of the home showcases extraordinary elements like radiant heated custom wood flooring, a gourmet kitchen, and a Gentleman's Lounge with full bar.
The online auction starts on June 30th, 2014 at 11:00 A.M. Eastern. In-person previews of the home are available during one of the pre-scheduled viewing times or by appointment. Bidders can call or click for the preview schedule or to obtain information about how to take part in the auction. Agents are fully encouraged to participate and cooperating brokers will receive commissions.
Scott Kirk, Founder and President of Interluxe, said, "We are delighted to expand Interluxe's presence in the Minnesota market with the sale of this distinguished Twin Ports property. With our online auction process, buying and selling one-of-a-kind homes like this one can be fast, uncomplicated, and transparent."
Interluxe is the premier platform for online luxury property auctions where motivated sellers, dedicated agents, and discerning buyers connect to do business on their own terms. The firm specializes in the auction of luxury properties worth $750,000 or more and also offers "a la carte" marketing: home sellers choose from multiple tiers of marketing services to ensure their property stands out to as many qualified buyers as possible. Every seller gets exclusive access to Interluxe's database of over 100,000 luxury homebuyers and over 1.5 million listing agents. The result is that agents and sellers get their individual marketing needs met through completely customized promotions. If you or someone you know can benefit from Interluxe's exclusive new platform, unmatched database, and first-class marketing and promotion, contact them at (888) 415-LUXE or http://www.Interluxe.com.