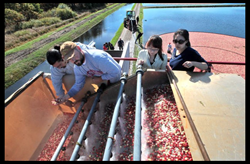 'Tours like this and the resulting media coverage are a great way for our cranberry to be shared on a global stage.' - Scott J. Soares, Executive Director, CMC
Wareham, Massachusetts (PRWEB) June 24, 2014
The Cranberry Marketing Committee (CMC) USA and Laughlin Constable were honored by the Public Relations Society of America's (PRSA) Southeastern Wisconsin Chapter with a 2014 Paragon Award in Media Relations for the CMC's "Introducing Cranberries to South Korea" media tour in October 2013. The Southeastern Wisconsin Chapter is part of a national organization, which is the world's largest and foremost organization of public relations professionals. With more than 21,000 members, PRSA provides professional development, sets standards of excellence and upholds principles of ethics for its members and, more broadly, the multi-billion dollar global public relations profession.
As part of its efforts to increase global awareness and consumption of U.S. grown cranberries, the CMC retained Laughlin Constable to assist with the planning and execution of a two-day media tour of Wisconsin's cranberry country for a group of prominent South Korean journalists. The effort resulted in a successful trip for the international visitors that generated more than 33 million impressions in the U.S. and South Korea, increased visibility of the cranberry industry and showcased CMC's continued work to facilitate cranberry business development in foreign markets.
"There is already great interest in the South Korean market for U.S. cranberries, and our goal is to broaden consumer awareness and to build on that interest to increase export activity," said Scott J. Soares, executive director of the Cranberry Marketing Committee USA. "Tours like this and the resulting media coverage are a great way for our cranberry to be shared on a global stage."
Visitors from South Korea had an opportunity to explore and taste "America's original superfruit" – a fruit that today is used across the culinary spectrum in many different product forms including fresh, frozen, dried, sauce, and powder. Journalists also got a close-up view of a processing plant to see innovative handling and quality assurance techniques and learned about the growing compilation of research related to the cranberry's health benefits in the diet.
The media tour was part of a broader effort by the CMC to increase awareness of cranberries in South Korea. According to Soares, the country is a growing market for U.S. cranberry products. Cranberry exports to South Korea has been on the rise since 2004, and increased 75 percent in the past year alone. In 2013, the U.S. cranberry industry exported more than 2.7 million pounds of cranberries to South Korea.
"We are incredibly honored to receive recognition with the Cranberry Marketing Committee for our work to bring increased attention to the cranberry industry in the United States," said Laughlin Constable President Mat Lignel.
Wisconsin is the leading cranberry growing region in the United States followed by Massachusetts, New Jersey, Oregon Washington, Connecticut, New York, Rhode Island, Minnesota, Maine, and Michigan.
About the Cranberry Marketing Committee USA
The CMC was established as a Federal Marketing Order in 1962 to ensure a stable, orderly supply of good quality product. Authority for its actions are provided under Chapter IX, Title 7, Code of Federal Regulations, referred to as the Federal Cranberry Marketing Order, which is part of the Agricultural Marketing Agreement Act of 1937, as amended. This Act specifies cranberries as a commodity that may be covered, regulations that may be issued, guidelines for administering the programs, and privileges and limitations granted by Congress. For more information about the CMC, visit http://www.uscranberries.com. Follow at http://www.twitter.com/uscranberries and https://www.facebook.com/CranbeCravers.
About Laughlin Constable
Laughlin Constable has been providing integrated marketing services to its clients for more than 35 years. With offices in Chicago, Milwaukee, New York and New Jersey, the agency provides Full Circle BrandingTM solutions to include brand strategy, digital marketing, digital development, advertising, design, public relations, and media research, planning and buying. Its annual billings are in excess of $260 million. The agency's clients include: the Bon-Ton Retail Group, GE Healthcare, Lung Cancer Alliance, Master Lock, MillerCoors, SABMiller, A&E, the USA Network, McDonald's Restaurants of Southeastern Wisconsin and the Wisconsin Department of Tourism. For more information, please visit http://www.laughlin.com.