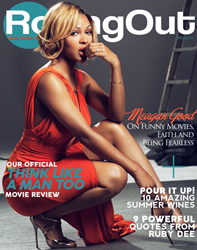 My faith is everything to me.
Atlanta, GA (PRWEB) June 29, 2014
Meagan Good has been making movies ever since she was an anonymous little girl complaining about Big Worm's shoddy ice cream truck services in the classic 1995 comedy Friday. And the road from child star to legitimate adult roles is rife with well-documented difficulty. But she's made it look easy — mostly because of her willingness to "just go for it." She's applied that mind-set to her latest project, the highly anticipated Think Like a Man Too, which reunites her with an ensemble cast.
"By the time I got to Think Like a Man Too, I was more comfortable and free," she tells rolling out magazine.
The beautiful actress is both a devout Christian and an admitted free spirit. She's a sex symbol who believes in "saving it for the wedding night." She's not contradictory — she just refuses to conform to anyone's standard. She won't stop being Meagan just to please the public. And she isn't ashamed of her sex appeal.
While Good is in full support of actresses pushing their limits and pushing the envelope for the sake of storytelling, she admits that she has not appeared nude on-camera herself because it can often feel exploitative. "I have no problem with nudity — it just has to not be exploitative and it has to be important to tell the story," she explains.
"My faith is everything to me, but I'm also extremely liberal and I believe in telling real people stories," Good adds.
Visit rollingout.com to read the interview in its entirety. Be sure to check out the exclusive photo shoot and video footage with celebrity photographer DeWayne Rogers.
About Rolling Out Magazine:
Rolling Out, the nation's largest free urban weekly, is a digital and print magazine that focuses on the black experience in response to entertainment, politics, fashion, culture, sports and lifestyle points of interest. Headquartered in Atlanta, Rolling Out is positioned as the voice for the African American experience, using its newspaper as a platform in the marketplace to express urgency for education reform, and to document entrepreneurial endeavors and other relevant issues in the Diaspora. For information on rolling out, please log on to rollingout.com.