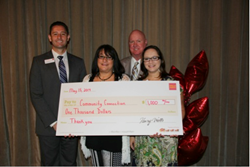 Healing America's Troops one Hero at a Time.
Palm Harbor, Florida (PRWEB) June 23, 2014
Healing Heroes Network is excited to announce that they are the proud recipients of the Wells Fargo Community Investment grant! The Wells Fargo store team, located at Boot Ranch in Palm Harbor, nominated Healing Heroes Network for this $1,000 grant. Wells Fargo then selected Healing Heroes Network to receive this wonderful grant!
Wells Fargo hosted a Community Connection Breakfast on May 15, 2014 at Ruth Eckerd Hall in Clearwater. Healing Heroes Network was awarded with this grant publicly, and along with Healing Heroes Network, thirty-nine other non-profit organizations were honored. Wells Fargo is proud to support organizations working to strengthen our communities and makes contributions in areas that they believe are important to the future of our nation's vitality and success. They look for projects that keep our communities strong, diverse, and vibrant. Based on this philosophy, Wells Fargo selected Healing Heroes Network as a grant recipient.
Healing Heroes Network is committed to healing America's Heroes by providing financial assistance for quality care to military personnel injured in the line of duty in Iraq or Afghanistan since 9/11/01. Through communication, education, and community outreach, Healing Heroes Network strives to bring awareness of the often untreated injuries sustained in war and the desperate need for our services.
For more information about Healing Heroes Network and the important work they do, please visit http://www.healingheroes.org.