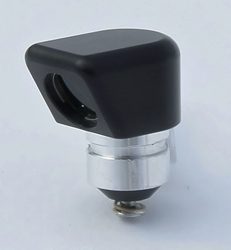 It is one thing to have a light fail, but an entirely different problem to have broken parts floating around in a cockpit.
Boise Idaho (PRWEB) June 24, 2014
The Blue Wolf Post light cap produces a very uniform NVIS White LED light for illuminating any kind of instrumentation. It can also be used as an upgrade to existing older plastic post caps, or for new installations with the installation of post light bases that can be provided by Blue Wolf.
The DLA Aviation division has been replacing older incandescent post caps with plastic LED post caps for over ten years and has not fully realized the long life benefits of LED technology. Continual replacement of broken plastic caps or inserts negates these benefits. LED post lights are typically a one piece construction as opposed to incandescent lights where a two piece bulb and cap is utilized. LED post lights should easily last 40K to 50K hours. However, should the LED malfunction or break apart then the entire post cap will need to be replaced. Using Blue Wolf's NVIS white LED post cap insert to upgrade the older incandescent fixtures was of great interest to them. The solid one-piece machined aluminum design ensures all the benefits of LED longevity that should be realized. Additionally, the Blue Wolf Post Cap Insert has a robust spring contact that ensures the lights will not turn off or flicker which is especially important on helicopters.
Blue Wolf designed the Post Light cap for the most extreme environments so that it will not break, fall apart if hit by a helmet, or malfunction when subjected to heavy vibration. "It is one thing to have a light fail, but an entirely different problem to have broken parts floating around in a cockpit," said Blue Wolf co-owner Ty Plowman. For safety reasons, all broken parts should be found and this can take several hours for a technician to find these broken parts in a cockpit. Maintenance costs can be reduced greatly by using this one-piece high quality post light cap insert manufactured by Blue Wolf, or any other Blue Wolf NVIS product such as the NVIS White Utility Light, NVIS White Rectangular Dome light, NVIS White map light, or NVIS pod lighting.
The NVIS White LED Post Cap insert is one of the latest additions to the Blue Wolf product line and complements the 14+ NVIS lighting products manufactured by Blue Wolf. Constructed out of machined aluminum and utilizing the latest LED technology, the Blue Wolf Post Light is designed for superior performance, durability, and reduces inventory costs.
Technical Data: (NVIS lighting is compatible per MIL-STD-3009)
Operating Voltage: 28/14/5 Vdd/ac
Operating Current: 16 mA
Mass: 0.07 oz (0.0019 kg)
ML-STD 970, DOD-160
NSN: 6220-01-515-7225
"Starting with our first NVIS light in 2007, we made a commitment to design the highest quality lights on the market. No competitor can compete with the quality of the Blue Wolf products. The incredible customer feedback we have received through the years drives us to continue with our commitment." - Dennis Sand (Co-Founder)
Headquartered in Boise, Idaho, USA, Blue Wolf is widely recognized as an industry leading designer and manufacturer of advance lighting products. Every light is produced in Boise, Idaho and tested to ensure we deliver the highest quality products.
For more information, please visit the Blue Wolf website http://bluewolfinc.com.