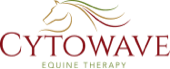 Calgary, Alberta (PRWEB) June 20, 2014
Jupiter-based equine therapy company, Cytowave, was recently affected by an F.E.I. evaluation regarding a new technology designed to accelerate injury repair.
Several recently successful riders and trainers are currently using a new technology called Cytowave Equine Therapy to accelerate the repair of their horse's injuries.
The Fédération Equestre Internationale (F.E.I.) veterinarian and ring stewards are investigating Cytowave Equine Therapy. The F.E.I. stewards saw the Cytowave system during a barn check and suspended it from use, pending an on-going investigation, as the Cytowave device was associated with Shock Wave and PEMF, two other banned technologies.
However, Cytowave Therapy is unlike Pulsed Electromagnetic Field Technology and shockwave therapies, which use high-energy pulses to deaden nerve endings and so permit the horse to function on the track, even through an injury. In contrast, Cytowave technology gently accelerates the healing effect by means of using weak biologic signals similar to that the horse generates, and thus helps accelerate healing of injuries that normally would require many months to recover, down to a few weeks without harm or nerve damage. Cytowave Equine Therapy is a new, patented technology that uses natural waveforms derived from living tissue detected by use of a Supercomputing Quantum Interference Device, which is commonly called a SQUID machine. These proprietary natural-derived signals are called SQUID Therapy SignalsTM (STSTM) and are designed to greatly increase the natural repair process of the body at a cellular level. However, this is a very gentle stimulation, using fields that are much less than a refrigerator magnet.
Cytowave Therapy amplifies those signals and re-introduces those same signals to the horse. Cytowave has sole rights to this patent.
Cytowave and the affected trainers are working diligently to provide FEI information about the STSTM technology so that the system can be allowed on the show grounds once their evaluation is completed, and it is clear that the system poses no risk to the horse or trainer.
For more information and contact information please call Frank Lyman, President & COO, at (561) 354-6280.
Cytowave LLC.
Cytowave LLC. is a leader in non-invasive equine therapy. Using the latest research in magnetic field therapy, Cytowave LLC. has developed an innovative approach to helping treat tendon, ligament, muscle and bone tissue injuries in race and performance horses. Cytowave LLC. is the manufacturer and distributor of Cytowave technology that is available for use through short-term rental and long-term leasing programs. For more information, please contact Frank Lyman at flyman(at)cytowave(dot)com. Cytowave Therapy equipment is proudly designed and made in the U.S.A.