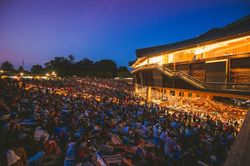 Vienna, VA (PRWEB) June 20, 2014
Sara Bareilles
Special Guests:
Lucius
Emily King
Little Black Dress Tour
Monday, July 14, 2014 at 7:30 pm
Sara Bareilles is bringing her Little Black Dress Tour to Vienna for her Wolf Trap debut! The pop-rock songstress shot to stardom with her 2007 album Little Voice, which topped the iTunes Most Downloaded list. The California singer/songwriter has scored three Billboard Top 40 singles, "Love Song," "King of Anything," and "Brave," the first of which was certified four times platinum and firmly established Bareilles as a strong contemporary voice. She has been nominated for a Grammy Award a stunning five times, the latest for her 2014 record, The Blessed Unrest, for Album of the Year.
Video: Sara Bareilles – "Love Song"
Brooklyn-based indie-pop band Lucius gives a modern spin to a retro pop sound. The ensemble includes Jess Wolfe and Holly Laessig on lead vocals, Peter Lalish and Andrew Burri playing guitar, and Dan Molad on the drums. Rolling Stone praised their first album, 2013's Wildewoman, by declaring Lucius "the best band you may not have heard yet." In the same year as their debut release, the video for the group's single "Go Home" won the Best Animation award at Brooklyn's Silver Sound Showdown: Music + Video Festival.
Video: Lucius – "Turn it Around"
R&B singer/songwriter Emily King blends jazz, roots, and soul to form her own distinct, eclectic style. In 2007 she released her debut album, East Side Story, which garnered her a Grammy nomination for Best Contemporary R&B Album. With Seventeen citing her as a "rare industry gem…oozing with raw talent," King has proven herself to be a force to be reckoned with, touring with distinguished acts such as Maroon 5, Alicia Keys, and John Legend within her first few years on the scene.
Video: Emily King – "Distance"
The Fray
Barcelona
Oh Honey
Wednesday, July 16, 2014 at 7:00 pm
Pop-rock band The Fray, artists behind the hit "Over My Head (Cable Car)," will show the audience "How to Save a Life" in their Filene Center debut this summer. Formed in 2002, the quartet consists of lead singer and pianist Isaac Slade, rhythm guitarist and background vocalist Joe King, lead guitarist Dave Welsh, and drummer Ben Wysocki. The band's 2005 debut album How to Save a Life skyrocketed them to international acclaim, reaching multiplatinum status around the world. Their 2014 record Helios continued the band's trend of releasing Billboard Top 20 charting albums; four of their records have earned that distinction in less than 10 years. The Fray is also decorated with four Grammy nominations and four Billboard Music Award wins, including Digital Album of the Year.
Video: The Fray – "How to Save a Life" (Live New Year's Eve 2014)
Barcelona, the self-described "piano rock band" from Seattle, rose to fame when their song "Please Don't Go" was featured in trailers for the 2011 movie Water for Elephants, starring Robert Pattinson and Reese Witherspoon. The group consists of Brian Fennell on vocals and piano, Branden Crate on vocals and keyboard, and Rhett Stonelake on drums. Since their formation in 2005, they have released three albums through their own independent label, NDB Music. The latest project from the band is a three-part EP series titled The Melodrama, which "explores the landscape of learning to love and be loved."
Video: Barcelona – "Fall in Love"
Hailing from the trendy Brooklyn neighborhood of Williamsburg, the folk-pop duo Oh Honey is comprised of singer/songwriter pair Mitchy Collins and Danielle Bouchard. Named for the rise of the honey farm industry in New York that brought the pair together, Collins and Bouchard combine their musical talents to create a unique indie sound with an emphasis on lyrical storytelling. Recently signed with Atlantic Records, Oh Honey released their first EP, With Love, in March 2014 with headliner single "Be Okay."
Video: Oh Honey – "I Love You Will Still Sound The Same"
Straight No Chaser
Thursday, July 17, 2014 at 8:00 pm
The 10-man a cappella group Straight No Chaser is back on the road with their Happy Hour Tour! The group, formed at Indiana University in 1996, reached unprecedented levels of success in popularizing a cappella music, including four highly successful albums that all charted in the top half of the Billboard Hot 100. With international tours, numerous TV appearances, and a Contemporary A Cappella Recording Award under their belts, the group will have everyone dancing along to their upbeat, harmony-filled medleys of pop songs, including covers of works by Michael Jackson, Adele, Dolly Parton, and more.
Video: Straight No Chaser – "Rolling in the Deep" (Live a cappella cover)
Tchaikovsky, Ravel & Rossini
National Symphony Orchestra
Andrew Litton, conductor
Jean-Yves Thibaudet, piano
Friday, July 18, 2014 at 8:15 pm
Hailed as "one of the best pianists in the world" by the New York Sun, Jean-Yves Thibaudet will masterfully perform classic works while accompanied by the National Symphony Orchestra, conducted by the Juilliard-trained Andrew Litton. The night features the works of three world-renowned composers, including Tchaikovsky's beloved William Tell Overture, Ravel's stunning Piano Concerto in G Major, and Rossini's moving Symphony No. 4 in F minor, Op. 36. The pieces will be showcased by the decorated Thibaudet, who holds a lifetime achievement award from the Victoires de la Musique, the French equivalent of the Grammys, in addition to numerous other honors. His exquisite performances can be heard in the feature films Atonement (2007), Pride and Prejudice (2005), and Extremely Loud & Incredibly Close (2011).
Video: Jean-Yves Thibaudet – "Grieg Piano Concerto in A minor, Op.16 - I.Allegro II parte"
2001: A Space Odyssey
National Symphony Orchestra
Emil de Cou, conductor
Woodley Ensemble, Frank Albinder, Music Director
Saturday, July 19, 2014 at 8:30 pm
Conducted by NASA musical advisor Emil de Cou, the National Symphony Orchestra will perform the score to the quintessential 1968 science fiction movie 2001: A Space Odyssey as the film is projected onto large in-house and lawn screens. Stanley Kubrick's classic masterpiece is considered one of the most influential films ever made and in 1991 was honored by Congress as an inductee to the National Film Registry. The movie's majestic score draws from several famous classical compositions, including Johann Strauss II's The Blue Danube waltz and Richard Strauss's Also sprach Zarathustra, as well as several works by modern composer György Ligeti. The film is presented by special arrangement with Warner Brothers, Southbank Centre London, and the British Film Institute.
Video: Philharmonia Orchestra —2001: A Space Odyssey (Live at Southbank Centre)
Huey Lewis & the News
Special Guest:
Marc Broussard
Sunday, July 20, 2014 at 8 pm
Legendary pop-rock band Huey Lewis & the News, whose 13 Billboard Top 10 charting hits include "The Power of Love," "Workin' for a Living," "Hip to be Square," and "I Want a New Drug," will once again rock the Filene Center. Formed in 1978, the band scored several hits throughout the '80s and into the early '90s with over 20 million records sold worldwide. Their 1984 album Sports was certified seven times platinum by the Recording Industry Association of America and, in 2013, the band released a 30th Anniversary edition of their best-selling gem.
Video: Huey Lewis & the News – "The Power of Love" (Live at 25)
Inspired by his southern roots, Louisiana born-and-bred singer/songwriter Marc Broussard blends blues, rock, and soul to create a distinctive style he affectionately refers to as "Bayou soul." With over a decade in the music industry and four albums under his belt, Broussard has established himself as a respected artist, having been invited to perform on primetime television on Jimmy Kimmel Live!, CBS Saturday Early Show, The Tonight Show with Jay Leno, Late Night with Conan O'Brien, and Larry King Live. His highly anticipated fifth album, A Life Worth Living, is set to release on July 29, 2014.
Video: Marc Broussard – "Lonely Night in Georgia" (Live from Full Sail University)
Tickets can be purchased online at wolftrap.org or by calling 1.877.WOLFTRAP.
For more information, call Wolf Trap at 703.255.1900.
Wolf Trap is Metro accessible!
Our environmentally friendly Wolf Trap Express Bus travels from the West Falls Church Metro stop every 20 minutes starting two hours prior to show time. For details, please visit wolftrap.org/Plan_Your_Visit/Access_by_Metro.aspx.
###