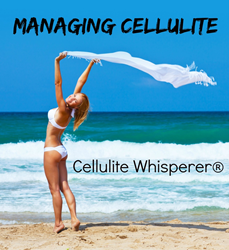 Reduce cellulite and look great this summer.
St. Petersburg, FL (PRWEB) June 20, 2014
Summer is here, and it's time to manage cellulite.
Cellulite plagues many women, but there are strategies to help reduce it.
"We have a website devoted to the issue of cellulite," says Kathy Heshelow, founder of Sublime Beauty®. "We include strategies to reduce it, and of course our Cellulite Whisperer® line of products."
The popular Cellulite Whisperer® Gel is now 25% off at Amazon with coupon code 2CELLQZW, or at the Sublime Beauty store with the same code.
The Sublime Beauty® Shopping site offers free shipping and a VIP Club to earn points for discounts.
"Don't forget to sign up for our secret deals and discounts here," says Heshelow. The company brings offers twice monthly not publicized elsewhere.
ABOUT: Sublime Beauty® is a quality skincare company that focuses on products to "Age Younger". Products help to boost collagen, hydrate, relax wrinkles and improve skin. A niche includes healthy Skin Brushes. The company webstore offers free standard shipping and a VIP Club. All products also available on Amazon.