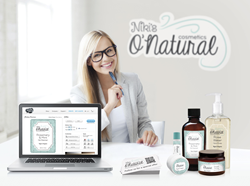 Businesses today are embracing innovation and implementing new products at unprecedented speed. If you are testing out a new product line, you may only need 20 labels. StickerYou meets the exact needs of the customer.
Toronto, ON (PRWEB) June 24, 2014
In North America's competitive market, 90% of small businesses fail within the first year. But thanks to the masterminds at a Canadian technology company, they now have a fighting chance.
Toronto-based StickerYou.com has developed a proprietary online platform that lets small businesses affordably brand their products and market. Even on a tight budget, young companies can compete with established consumer product businesses. They can stand out from the crowd by creating high quality custom product packaging labels in the quantities needed, but at a cost they can afford.
At StickerYou.com, customers can upload their label design to the platform or design a label using the Sticker Editor, and then choose from a variety of materials. No other packaging label supplier in the world has an online interface where customers can create their own custom contour die cut labels. However, StickerYou's algorithm creates a unique die-cut that conforms to the exact shape and size of their design - breakthrough technology developed by StickerYou.
For example, a cosmetic container, or food jar that needs a specific 2.4" * 1.7" label size can now be easily handled. This opens up possibilities for innovative packaging designs as labels can be created to exact sizes and specifications to fit any type of packaging. In the past, companies would have to make major investments in custom labels even before its potential was proven. Now, they can start by ordering customized labels for under $10.
About 98% of the companies in North America are classified as "small businesses", with an average of 180,000 new businesses entering the market each year. The Web and e-commerce sites such as Etsy and Shopfiy have given people the ability to sell their handmade and custom products on a global scale. With this much competition, attractive branding and packaging is more important than ever. Now through StickerYou, it is affordable and easy.
"Businesses today are embracing innovation and implementing new products at unprecedented speed. If you are testing out a new product line, you may only need 20 product packaging labels. Most companies require you to spend a few hundred dollars and meet the minimum order quantity requirements for custom labels. StickerYou is the first online technology that meets the exact labeling needs of the customer, letting them be innovative, while only paying for what they need", says CEO Andrew Witkin. "The full color, waterproof, and bubble-free labels are printed at StickerYou, and shipped right to the customer's door within a few days." Watch the video on creating custom product labels.
Although most of StickerYou's customers are located in North America, the company ships worldwide. All orders can be completed online 24/7 by customers, while custom solution associates are available to help with specific needs and offer products not listed on the website.
About
StickerYou is passionate about providing business and consumers with the highest quality custom stickers, labels, decals, iron-on labels and temporary tattoos. Their website is built with proprietary die-cutting technology to help anyone make and order products exactly as they need them. StickerYou offers a 100% satisfaction guarantee with a mission to ensure customers will love their products.
StickerYou was founded in 2008 by Andrew Witkin, who was inspired during a walk on Los Angeles' Manhattan Beach. He noticed how stickers played a huge role in the local scene and culture but realized how expensive it was for individuals to create awesome die-cut stickers themselves.