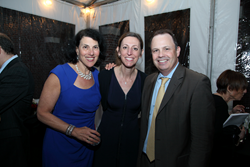 We are looking forward to working with Elissa, Geoffrey, Marla and Harriet to utilize their expertise and passion...Each will be a tremendous asset to DOROT as we continue to engage volunteers to enhance the lives of older adults.
New York, NY (PRWEB) June 24, 2014
DOROT is privileged to announce four new members to the Board of Directors: Elissa Fishman, Geoffrey Raicht, Marla Schlenoff, and Harriet Shaiman. Elissa and Geoffrey were elected in May, and Marla and Harriet were elected in March. Each new member will bring particular expertise to an already dynamic team of leaders, enabling the agency to progressively achieve its mission of alleviating social isolation among the elderly.
Elissa Fishman serves as Senior Vice President, Finance, for the Time Inc. News & Sports Group. She has been involved in finance with Time Inc. for two decades, joining in 1997 as a Finance Manager, and holding a series of roles across various divisions. She currently oversees finance and operations for media brands including Time, Sports Illustrated, Fortune, and CNNMoney.com. Elissa holds a BS degree from The Wharton School, and an MBA from New York University's Stern School of Business.
Geoffrey Raicht is a partner in the Business Solutions, Governance, Restructuring & Bankruptcy Group in the New York office of Proskauer. His practice focuses on debtors' and creditors' rights in complex Chapter 11 cases; he also represents distressed hedge funds, court-appointed liquidators of offshore funds, and structured investment vehicles. Geoffrey has been recognized by Legal 500 as one of the leading lawyers in his field. He received his JD from the City University of New York School of Law, and an MPA from New York University.
Marla Schlenoff is the Global Chief Operating Officer of Recruiting, Diversity & Inclusion and Community Engagement at Bloomberg, LP in New York. She has been Chief of Staff, head of training and leadership development, head of recruitment, and has led a program matching professionals with prospective non-profit organizations for which they could volunteer their services and time. Marla has broad experience in nearly every area of human resources.
Harriet Shaiman has a 12-year tenure as a Trustee, Executive Committee Member, and Strategic Plan Implementation Committee member of Camp Ramah in the Berkshires. She served as the President of the Abraham Joshua Heschel School's Parent's Association, and was their representative on the Board of Directors. She has been involved with DOROT for many years, as her children have participated in volunteer events and her husband Joel is a former DOROT Board member.
"We are looking forward to working with Elissa, Geoffrey, Marla, and Harriet to utilize their expertise and passion to improve the lives of older adults," said Mark L. Meridy, Executive Director of DOROT. "Their knowledge and connections will help steer the organization, with a focus on volunteer and staff training, development, corporate engagement, fiscal responsibility, and mentoring emerging young leaders. They will help create and implement long-term planning and strategic priorities. Each will be a tremendous asset to DOROT as we continue to engage volunteers to enhance the lives of older adults."