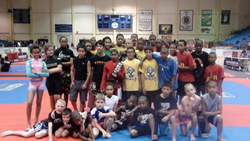 This is definitely my home away from home.
Camp Springs, MD (PRWEB) June 20, 2014
Following the 2014 Brazilian Jiu Jitsu World Championships earlier this month, Lloyd Irvin and his team returned to Camp Springs, MD with several medals and satisfied with yet another awing performance. Most thought the Team would be demolished, instead they were third place for most of the tournament before slipping out of the top three on Black Belt Sunday.
Upon returning, many competitors were promoted, including three new Black belts, two browns, and two purple belts. The newest Lloyd Irvin purple belts are Malachi Edmonds and Jamil Hill-Taylor. Both young men have been training at Lloyd Irvin's Martial Arts Academy for over a decade, with their posters up on the Academy walls. Both young men are also in college now, furthering their educational skills along with their jiu jitsu skills.
Alongside Master Lloyd Irvin for the promotions was Master Donald Achnick. Master Donnie, as the Team calls him, is a Black belt under Master Lloyd Irvin, and joined Lloyd Irvin's Martial Arts Academy only a few short years after the doors opened in 1996. Master Donnie is head instructor for the Kids and Teens program. He's proud to have coached literally hundreds of kids and teens in Jiu Jitsu tournaments like the IBJJF Worlds, NAGAs, Grapplers Quests, and Copa Novas.
Malachi Edmond began training martial arts at Team Lloyd Irvin at age 5. Now, 19, Malachi is a new purple belt, 2011 blue belt juvenile IBJJF World Champ, 2014 Blue belt adult Pan bronze medalist, and 2014 blue belt adult Worlds bronze medalist. Edmonds is a multiple time Grapplers Quest and NAGA champion and also holds the record for youngest student to receive a Jr. Black Belt under Master Lloyd Irvin and Master Donnie.
Says Malachi of Lloyd Irvin's Martial Arts Academy, "this is definitely my home away from home."
Jamil Hill-Taylor, 18, also began his martial arts career as a kid in the Lloyd Irvin's Martial Arts program. Jamil began at age 9 in the After School program and soon flourished under the tutelage and guidance of Master Lloyd and Master Donnie. Before earning his purple, Jamil as 2012 blue belt juvenile World Champ, 2012 blue belt juvenile Pans Champ, 2014 blue belt adult Pans champ, and multiple-time NAGA and Grapplers Quest Champion. Also, a Team Lloyd Irvin Jr. Black Belt, Jamil says, "Lloyd Irvin's Martial Arts Academy helped me become the person that I am today. I look forward to spending many more years here with my team."
Lloyd Irvin's Martial Arts Academy is located in Camp Springs, Prince George's County, MD. Lloyd Irvin first opened the doors of the Academy in 1996, and has since grown into one of the most prestigious, most sought after BJJ and MMA academies in the World. The Academy offers classes for Men, Women, and Children in BJJ, MMA, Muay Thai, Wrestling, Fitness, and more.
For more information on Lloyd Irvin's Martial Arts Academy, please visit http://www.lloydirvinlive.com, or call 301-449-KICK, lines are open 24/7.