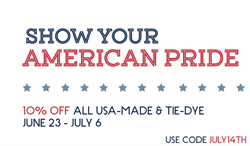 Clothing Shop Online offers free shipping and handling on all orders over $75, flat rate shipping for $5 and no minimum order price.
Santa Fe Springs, CA (PRWEB) June 23, 2014
To celebrate America's Independence Day, Clothing Shop Online is holding a July 4th sale on their tie-dye and American made products, making it easier for shoppers to show their patriotic spirit. From June 23rd through July 6th, 2014, customers who purchase these products will receive 10 percent off the original price on items including sweatshirts, t-shirts, hats, infant creepers, beach towels, and tote bags. Regular prices start at $6.01 for a basic 100 percent cotton t-shirt to $22.81 for a rainbow multi-color tie-dye hooded sweatshirt and $29.04 for an American-made zippered hooded sweatshirt. These items come in a range of colors and are available in women's, men's, and kids' sizes, so shoppers are sure to find the perfect fit and color for their holiday celebration. To help customers save on delivery, Clothing Shop Online offers free shipping and handling on all orders over $75 and $5 flat rate shipping on lower-priced orders. There is no minimum order price.
In addition to American-made and tie-dye products, Clothing Shop Online offers great deals on other products including dress shirts, camp shirts, polo shirts, jackets, tank tops, oxford shirts, boys' pants, girls' pleated skirts, men's jerseys, mesh shorts, work uniforms, socks, towels, blankets and dog wear. The company features well-known brands including Hanes, Alo, Fruit of the Loom, Bella + Canvas, Champion and Calvin Klein so customers can be confident they are ordering well-made and durable clothing products. Shoppers can select items by browsing categories at the top of the screen. A scroll-down page will appear where shoppers can click on the style of their choice, such as dress shirts or t-shirts. Customers can then filter the selection by clicking on a size, brand name, or color on the left side of the screen. Once they have found the item they want, shoppers can move their mouse over the product image and click on the "Add to Cart" bar that appears in the lower left corner. To address any questions or concerns, shoppers can speak directly with a customer service representative via the live chat portal.
About Clothing Shop Online
Launched in 2012, Clothing Shop Online is a one-stop online shop for high-quality clothing of all types and sizes. Clothing Shop Online provides customers with affordably priced apparel from a variety of trusted brands, including Hanes, Fruit of the Loom, Calvin Klein, Van Heusen, Champion, and Sierra Pacific.
Clothing Shop Online always puts the customer first. Dedicated customer service representatives are available via phone or email Monday through Friday during regular business hours. Shoppers can also live chat with a representative within the pop up box on the lower right hand side of the browser window. For more information about Clothing Shop Online products and services, please go to http://www.clothingshoponline.com.