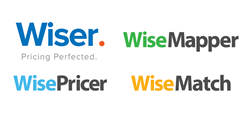 Each of Wiser's products helps solve a specific business intelligence challenge facing eCommerce companies.
San Francisco, CA (PRWEB) June 23, 2014
Wiser--which has built an impressive portfolio of clients including Rue La La, Build.com, and AT&T-- will now serve as the umbrella brand for the growing suite of products developed to accompany WisePricer, its flagship product and original brand name. The team has already gone global with recent expansions to the UK, Australia, and Southeast Asia and expects its 30 - 35% month over month growth rate to continue.
"For retailers, it's all about offering the right product, at the right time, at the right price. Amazon seemed to be doing it right by utilizing the power of big data to optimize their strategy," Wiser Co-Founder and CEO Arie Shpanya explained. "We created Wiser because we believe other retailers should reap the benefits of dynamic pricing technology." Wiser puts this invaluable pricing intelligence into the hands of the world's top retailers by monitoring over 25 million products daily and analyzing data in real-time.
Wiser's founding team consists of experts from across the industry. "Wiser is a product by retailers, for retailers. We have the advantage of having top technical, merchandising, and marketing talent from the retail world on our team, and our products reflect that," explains Roey Brecher, Co-Founder and CTO.
Since the launch of the formerly-eponymous WisePricer in August 2012, Wiser was able to bootstrap to profitability in 9 months, and has experienced exponential growth in 2014 while exceeding aggressive quarterly earnings goals. With the team and client base growing, they have continued to expand on their intimate knowledge of eCommerce to develop additional features and products.
One such product, WiseMapper, is a MAP monitoring solution that enables brands to monitor and protect their pricing across thousands of retailers selling their products. Each of Wiser's products helps solve a specific business intelligence challenge facing eCommerce companies; when used collectively, the suite provides a comprehensive platform of solutions that make it possible for retailers, brands, and manufacturers to stay competitive and profitable.
WisePricer remains the core product, working seamlessly across multiple channels in real time and making it easy for retailers to set repricing rules based on both internal sales and external competitor data. With these features, WisePricer has enabled leading retailers to increase revenues by 22% and bottom line margins by 7%.
Wiser offers a 14-day free trial to allow retailers to see the product in action.