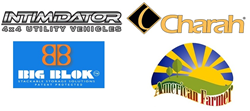 Jupiter, FL (PRWEB) June 20, 2014
American Farmer announces an episode airing on RFD-TV on Tuesday, June 24, 2014, at 8:30 am ET.
In this episode, American Farmer will explore Big Blok's High Quality Low Density Polyethylene (LDPE) containers, which are designed for unusual, demanding applications. LDPE has proven reliability, even in harsh use and environment such as plastic gas cans, Tupperware®, milk bottles, playground slides, septic and spray tanks.
The show will also feature Intimidator, known for their family of utility vehicles. Viewers will learn about the Intimidator 4x4, the American made UTV, consisting of a solid-steel, all welded chassis. Available in diesel, gas, or electric power selections, with a standard bench seat to accommodate three adults; the Intimidator 4x4 boasts the longest standard warranty in its class.
Additionally, American Farmer goes-behind-the-scenes at Charah, Inc. to educate viewers on SUL4R-PLUS® product, and how this new patent-pending pelletized sulfate product is unlike any other sulfur-fertilizer product on the market, making sulfur application easier, enhancing soil quality, and improving production of crops.
"It's important to stay informed on the latest innovations and advancements to hit the Ag industry, said Charlie Cowan, producer for American Farmer. "This episode is jam-packed with important educational information, that we look forward to sharing with rural Americans around the country."
About American Farmer:
American Farmer is a breakthrough program on a mission to showcase the latest advancements in agriculture and farming. From seed to harvest, livestock and more, our producers have traveled the country covering the people, places and issues impacting all areas of farm country.
American Farmer airs Tuesdays at 8:30am ET on RFD-TV as well as Tuesdays at 12:30pm and Saturdays at 1:30pm ET on FamilyNet.
For more information visit: http://www.AmericanFarmerTV.com or call Charlie Cowan at: (866) 496-4065 x 875 or via email at: Charlie(at)AmericanFarmerTV(dot)com.