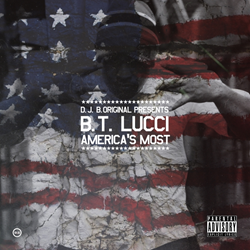 Los Angeles, CA (PRWEB) June 20, 2014
Coast 2 Coast Mixtapes announces the release of the "America's Most" Mixtape by B.T. Lucci presented by D.J. B.Original. The 19 track project is currently available for download. The mixtape features appearances from Cashmere and Big Twins.
B.T. Lucci is an emcee from Altadena, California; a small town next to Pasadena in Los Angeles County. Plagued by the street mentality of which he was brought up, B.T. sold drugs and was involved with gangs in his teenage years and early twenties. But, understanding the outcome of such a lifestyle, B.T. choose to change his ways, signing up and completing his 4 year degree at a prestigious college in California. Though he possessed a true talent for lyricism and delivery, most of B.T.'s life he had to put his passion for music to the side to complete school and go to work everyday to help out his mother. After losing his father when he was seventeen years old, B.T.'s brother took on responsibility for supporting the family inspiring B.T. to do the right thing for not only himself but his family as well. Spreading his story of hope and perseverance as well as juggling his quickly rising corporate career, B.T. provides a rags to riches story that instills confidence in those youth who feel trapped due to the environment in which they were raised.
A former colleague of B.T. Lucci who recently linked back up with the prospering emcee, D.J. B.Original also shares a backstory steeped in perseverance. A native to St. Louis, D.J. B.Original first fell in love with Hip Hop after hearing "Rapper's Delight" when he was only five years old. Paying his dues with a dual cassette player, two mismatched turntables, and a boombox; B.Original worked his way toward the top becoming one of St. Louis' the most established DJs.
Deciding to try his hand at producing B.Original joined up with the midwest hip-hop collective Jus Us League eventually being mentored by Nelly and the St. Lunatics beat-smith Jason "Jay E" Epperson. Jason "Jay E" Epperson took B.Original under his wing teaching him the studio techniques and business practices to build his producer credits. Taking his skills to New York B.Original teamed up with the legendary DJ Chuck Chillout sharpening his skill to move to Los Angeles where he worked hand in hand with Prodigal Sunn from the mighty Sunz of Man/Wu Tang Clan. After working his way to the top of the Sunset Strip DJ scene through DJing, producing, promoting live events, putting out mixtapes, and hosting his own weekly mixshow on 1073WKCR.com; D.J. B.Original started his own entertainment company titled Sound Unity Entertainment. Sound Unity Entertainment has several projects slated to be released in 2014 starting with B.T. Lucci's "America's Most".
"America's Most" by B.T. Lucci, presented by D.J. B. Original, is Sound Unity Entertainment's debut project. The official introduction to one of Cali's finest, B.T. Lucci; this street album presents B.T.'s compelling rhymes and storytelling accompanied by D.J. B.Original's creative production. With appearances from Cashmere and Big Twins, two of Sound Unity Entertainment's own, "America's Most" has a lot to say. Give "America's Most" a full listen and support Sound Unity Entertainment's beats and rhymes on their official website at http://www.soundueonline.com/.
About Coast 2 Coast Mixtapes
Coast 2 Coast Mixtapes are the most widely distributed mixtapes in the world, with over 100 million downloads/plays generated by over 200 volumes officially hosted by major artists. Coast 2 Coast has a solid reach in the new music industry with a digital magazine, DJ coalition, industry tips blog, yearly convention, and more. Coast 2 Coast Mixtapes represents a unique opportunity for artists of all urban genres, from major to indie. For more information, visit http://www.coast2coastmixtapes.com.