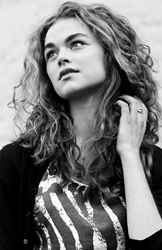 High-fashion models who are at the top of the charts deal with their own insecurities.
Atlanta, GA (PRWEB) June 21, 2014
In 1982, top New York model Millie Lewis and her daughter Carey were shepherding students to a modeling convention in New York City. Carey, with the heart of a young entrepreneur, turned to Millie and said, "Mom, we can do this better." The first AMTC conference was held at the Sheraton Hotel in Charleston, S.C. Today, the AMTC SHINE Conference is in its 32nd year, holding to a renewed mission: greater dedication to performers who are called to be positive role models in the industry, ultimately shining for God.
God calls performers into the industry, while AMTC elevates and equips them. By living out the purpose to "make good bolder," Actors, Models and Talent for Christ has been the starting point for many positive role models in the media. Two extraordinary AMTC grads who are making disciples in entertainment are Emily Hyland Dean and Matt Rossitch.
At 19-years-old, Emily was receiving high grades and honors at the Royal Academy of Dance. She began to feel the Lord calling her to leave the academy and venture into the professional realm of entertainment. In the Winter of 2011, Emily attended the SHINE Conference. Through AMTC, she signed with several modeling agencies and received a scholarship to the New York Conservatory for Dramatic Arts.
Now in a band with her husband, modeling with multiple agencies and appearing in an archery commercial, Emily has an exciting career. Her company, Verity Vareé, makes her most proud. With the company, a photo shoot and interview process are compiled into a package to tell an individual women's story. Emily speaks about the idea, "Every woman has been given the gift of beauty, but what she does with it is her responsibility," Emily said. "High-fashion models who are at the top of the charts deal with their own insecurities. Every one does. So, that was the catalyst for Verity Vareé."
Matt Rossitch attended AMTC during the Winter of 2013. He took home the Overall Stand Up Comedy Award, Overall Child Male Actor Finalist and the Overall Child Male Model Finalist. Soon after SHINE, he signed with Joy Pervis (discovered Dakota Fanning) from J Pervis Talent Agency. Matt has been in films such as "Curve Ball", "The Circle" and "Boxes." Most recently, he stars alongside Burt Reynolds in an upcoming feature film, "Elbow Grease." Matt can be seen in commercials and print advertisements, and is in the filming process as a leading role in "Sea Odyssey." At just nine years old, Matt has an extraordinary career ahead of him.
AMTC is a launching pad for talented performers just like Emily and Matt. The 63rd biannual SHINE event will span from July 1-6, and is excited to welcome over 700 AMTC-trained performers to the Gaylord Palms Resort.
For more information about AMTC and the International SHINE Conference, please visit http://www.amtcworld.org.