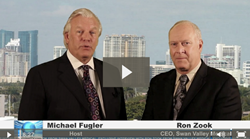 Bigfork, Montana (PRWEB) June 19, 2014
Swan Valley Medical, Inc. was one of the presenting companies at the recent FSXinterlinked Investment Conference, held at the Ritz Carlton in Fort Lauderdale, Florida.
Swan Valley Medical, Inc. is a company focused on developmental and commercialization of sophisticated urological surgical instruments incorporating new approaches and technologies to enhance and improve upon existing surgical devices and procedures.
They have developed a line of unique, patented, single-use surgical instruments and accessories for application in the field of urology. The Company's first urological instrument is T-SPeC®, an innovative, patented cystostomy device for treatment of urinary retention and incontinence in adult patients.
As a presenting company at the event, Ron Zook, Swan Valley Medical CEO, was interviewed by FSXinterlinked host, Michael Fugler.
During the interview, Swan Valley Medical Inc. shared exciting news about the company.
"The focus is, initially, in urological applications with two new instruments that don't exist in the market place today." said Mr. Zook, adding, "I think the starting point was the passion that my co-founder and partner in this company had for changing the way certain procedures were done because of the safety inefficiencies that he saw as a physician."
Mr. Zook added "The first instrument is a replacement of a device called the percutaneous punch device that is used to place a catheter in the bladder percutaneously through the abdomen to the bladder. This has a very high mortality rate, a 4.4%. That is higher than a kidney transplant. Our device has proven to be at 0% mortality."
The complete exclusive interview is available only on the FSXinterlinked channel on InterlinkedTV.
More information is available at Swan Valley Medical's Public Profile on Interlinked.com.
__________________________________________________________________________________
About FSXinterlinked Investment Conference
FSXinterlinked is the premier investment conference organization in the United States. Founded as Financial Services Exchange (FSX) in 1983, it is one of the longest standing and most trusted investment conferences in the country for Broker Dealers and financial professionals. For more information about our organization please go FSXinterlinked.com
About Interlinked
Interlinked is a global investment community of investors, emerging growth companies, and resource partners. Interlinked offers an efficient way for companies to maximize exposure and access a private network of funding sources and verified service providers. For investors, Interlinked provides a secure environment to find, vet and engage companies, and communicate with members. Interlinked gives members exclusive access to a proprietary investment platform, which integrates virtual data rooms, video news, a service provider marketplace, an event directory, and customized marketing services, including email marketing, video production, public relations and more. For more information, visit: http://www.interlinked.com/.
Safe Harbor Statement
This press release may contain information that constitutes forward-looking statements made pursuant to the safe harbor provisions of the Private Securities Litigation Reform Act of 1995. All statements, trends, analysis, and other information contained in this press release, including words such as "anticipate," "believe," "plan," "estimate," "expect," "intend," and other similar expressions of opinion, constitute forward-looking statements. Any such forward-looking statements involve risks and uncertainties that could cause actual results to differ materially from any future results described within the forward-looking statements. Risk factors that could contribute to such differences include those matters more fully disclosed in the Company's reports filed with the Securities and Exchange Commission. The forward-looking information provided herein represents the Company's estimates as of the date of the press release, and subsequent events and developments may cause the Company's estimates to change. The Company specifically disclaims any obligation to update the forward-looking information in the future. Therefore, this forward-looking information should not be relied upon as representing the Company's estimates of its future financial performance as of any date subsequent to the date of this press release.