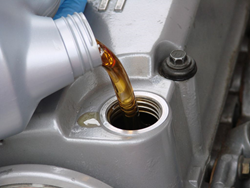 Getting your oil changed is really simple and doesn't cost much either but has such a huge impact on the overall health of the vehicle
Hurlock, Maryland (PRWEB) June 23, 2014
Getting an oil change is of the utmost importance if the driver wants the engine to stay running well.
Oil keeps the parts in the engine moving. Oil plays a supporting role in the combustion engine, without it the parts would not be able to move freely. The seals would just dry up and crack causing little bits of dirt and metal to clog the works.
One of the first choices a driver must face when it comes to oil is which oil to use; mineral or synthetic. Mineral oil is the stuff that comes from the ground and is created as part of the oil refining process. Synthetic oils are more expensive because they are chemically engineered. Synthetic oils have additives which keep the oil cleaner for a longer period of time.
Another thing a person should understand about oil is oil viscosity. Viscosity is the measure of how easily the oil flows. This means if the oil is thick or thin. The Society for Automobile Engineers tests all engine oil at 210 degrees Fahrenheit. These engineers than five the oil a rating from 20 to 60.
A driver should also know when to change their oil. The basic rule its every 3,000-5,000 or every three months. Whichever one comes first. Many cars now keep track of the oil and alert the driver when it is time for an oil change. This is helpful so that the driver doesn't go to long without an oil change and create damage.
Motor oil also cools the engine. Antifreeze is responsible for a lot of the cooling, however it only cools the upper portion. Motor oil cools due to the fact that it circulates while dissipating the heat. It also helps reduce heat because it reduces friction.
Motor oil also cleans, it is designed to pick up any debris between parts. If the engine doesn't stay clean than is becomes less efficient.
Skip McCracken, Service Director of Preston Nissan stated, "Getting your oil changed is really simple and doesn't cost much either but has such a huge impact on the overall health of the vehicle, it is extremely important to get it change regularly."
About Preston Automotive Group
Preston Automotive Group serves the Delaware, Maryland, Virginia and Pennsylvania areas with Ford, Lincoln, Mazda, Hyundai, and Nissan brands. The auto group carries the largest selection of new and used cars and trucks. Additionally, the dealership services all makes and models, both imported and domestic cars with ASE certified and factory trained technicians. To further serve your automotive needs the Preston Automotive Group is also home to 3 auto body shops conveniently located around Delmarva in Preston, Cambridge, and the newest facility in Snow Hill, Maryland. Recently Preston Automotive Group added new Ford and Lincoln locations in Georgetown and Lewes, Delaware.