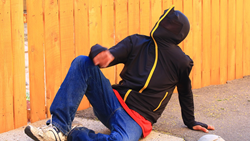 Our project treats people who are homeless differently. We are including them in value-creating activity, leveraging their unique experiences and hardships to create design and a product that is better for everyone.
Albuquerque, NM (PRWEB) June 20, 2014
In Albuquerque last month, urban wear designers Avid Union were testing an upcoming design and Kickstarter project, The Visor: Stealth Hoodie, when Joe, a member of Albuquerque's growing homeless population, approached Anders Hsi, co-founder of Avid Union and asked about the design. Joe was interested in The Visor: Stealth Hoodie because of its full-face zip up feature, which conceals the face while maintaining clear vision. Living outdoors, in public, and often viewed as dangerous, this feature would give him protection from environmental exposure and insulation from a society in which he is cast as an outsider.
"Can I get one of those?" Joe asked, remarking, "That would be really useful for me because I live outside." We gave him our prototype. We realized that by focusing on the experience and needs of people who are homeless, we could design the ultimate urban tech wear and come to a better understanding of their daily lives and needs.
Homelessness in Albuquerque has recently received national attention when police shot and killed James Boyd, a mentally ill homeless man while he was "illegally camping" in the Albuquerque foothills.
Avid Union has given hand-made prototypes of The Visor: Stealth Hoodie to the homeless in Albuquerque and has committed to give one Hoodie to the homeless for every twelve produced. Living outside, constantly in public, always on the move, and often discriminated against, no one experiences more profoundly the challenges of urban life than people who are homeless. Designing for their needs allows us to easily satisfy the comparatively trivial demands of our modern, digital lives and satisfy a desire to protect our privacy and express individuality.
This story has received initial coverage from Mashable and The Huffington Post. For more information visit The Visor: Stealth Hoodie now on Kickstarter.
https://www.kickstarter.com/projects/enthousis/the-visor-stealth-hoodie-face-guard-hood-with-clea