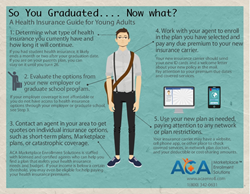 Bedford Park, IL (PRWEB) June 23, 2014
With the Affordable Care Act, twenty-somethings now have the opportunity to remain on their parents' plan until they reach the age of 26. While this is good news for the struggling grad-students, this also means that some of you (or most of you) will choose to remain uninformed about health insurance options until it's absolutely necessary. If you want to be prepared, the list below outlines the options available for individuals between the ages of 18 and 29.
1) Student Health Insurance Plans
Most colleges and universities offer student health insurance plans that you can keep throughout your time as a student. These plans typically end when your time as a student does, so if you've recently graduated, make sure you find out until when this coverage will last.
2) Employer-Sponsored Health Insurance Plans
If you've recently graduated and started a new job, congratulations! If you are a full-time employee, your employer may offer group health insurance coverage that you can enroll in at your time of hire. If you have questions about the company's plan offerings and your eligibility, follow up with a Company HR Representative. Under the Affordable Care Act, waiting periods for these plans cannot last longer than 90 days. If you need a plan for the 90-day waiting period, however, see if you can stay on your parents' plan for a few months or check out option 4 (Short-Term Plans).
3) Marketplace Plans
The new health insurance marketplace offers a one-stop shop for various types of major medical insurance. If you lose other coverage (e.g. you turn 26 and your parents' plan finally kicks you off, your full-time job becomes a part-time job, etc.), you become eligible for a 60-day special enrollment period for plans offered on the Health Insurance Marketplace in your state of residence. To compare the premium (monthly cost), deductible and coinsurance (cost for health services) and benefits (health services that are covered by the plan), you can work with an agent (like the ones who work at ACA Marketplace Enrollment Solutions). They can even tell you about the special high-deductible Catastrophic Plan available for people under 30. These plans usually have lower monthly premiums, but cover you comprehensively only in the event of a medical crisis.
4) Short-Term Plans
Although Short-Term Plans are not considered minimum-essential health coverage, these plans can provide medical coverage for health events that might come up between coverage periods (e.g. your parents' plan ends on July 1st and your employer plan doesn't begin until October 1st). As the name suggests, these plans cover you for a short period of time and are typically not renewable after they expire.
If you are confused about your options and want to know more, ACA Marketplace Enrollment Solutions has a staff of licensed and certified agents who can walk you through plan comparison on the Marketplace, explain complex terms like deductibles and coinsurance, and even send you quotes for short-term plans. Once you choose a plan, you can work with your agent and new insurance carrier to ensure you are using your plan in a way that meets your personal needs.
Who is ACA Marketplace Enrollment Solutions?

ACAMES is a licensed, certified and multi-lingual national enrollment firm that specializes in the Health Insurance Marketplace and individual insurance products.
ACAMES is not affiliated with any governmental agency. As a Health Insurance Marketplace enrollment provider, we are here to assist individuals and families secure health insurance. ACAMES is compensated by the insurance carrier and there is no cost to the potential customer or enrollee.
ACAMES agents certified on the Marketplace Exchange possess extensive knowledge on the enrollment process. These certified agents can help calculate subsidies and explain how deductibles, out-of-pocket maximums and copayments work under the Affordable Care Act.
ACAMES represents national and regional health insurance carriers across the country that offers products both on and off the Health Insurance Marketplace, including a variety of ancillary products. Visit our website at http://www.acaenroll.com or call us at (800) 342-0631 to get more information.