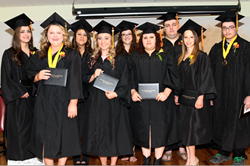 I must commend our students for choosing a different educational path.
(PRWEB) June 20, 2014
New Mexico Connections Academy (NMCA), a tuition-free, online public school that offers high-quality online education for students in grades 4-12, hosted its first graduation ceremony on Sat., May 31 at Albuquerque's Indian Pueblo Cultural Center. Students traveled from as far as Santa Fe, El Paso, Grants and Farmington in order to participate in the traditional commencement ceremony.
The NMCA Class of 2014 consists of 10 diverse students whose commitment to graduating was evident when they enrolled in the new school last summer, before NMCA opened to the public in August 2013. In its first year, NMCA served approximately 500 students statewide and recently increased its enrollment cap to 700 students for the 2014-15 school year.
Graduation was even more meaningful for the nine students who attended the ceremony because many of them met each other for the first time. Several graduated with honors, including six students with a 3.0 GPA or higher.
NMCA Principal Athena Trujillo welcomed the students and families, setting the tone for a celebratory morning. She spoke briefly, congratulating the students on their achievement, quoting the late Steve Jobs, the late Maya Angelou, John Walsh of the J. Paul Getty Museum and Sheryl Sandberg of Facebook.
"As I reflect on our first school year, I must commend our students for choosing a different educational path," Trujillo said. "They attend a virtual public school – they work with teachers online and on the phone while a trusted adult or "Learning Coach" monitors academic progress in the home. They are leveraging the power of technology and succeeding in a new school environment – one that meets their needs."
She proudly shared graduates' plans for the future, citing that more than half planned to continue their education at universities, colleges and trade schools. Others are planning to enroll in the U.S. Armed Forces or pursue jobs that align with their interests.
She spoke directly to the students, encouraging them to embrace their future with zeal.
"Live life…don't just endure it or pass through it, but really live it," she said, quoting Steve Jobs. "Make your own work and take pride in it. Take a risk in your daily life whether big or small, academic or social. Do not be afraid to fail. You may learn many things about yourself..."
For information, call 800-382-6010 or visit http://www.NewMexicoConnectionsAcademy.com
###
About Connections Academy
Connections Academy is a leading, fully accredited provider of high-quality, highly accountable virtual schooling for students in grades K through 12. Through tuition-free public schools, and full-time and part-time private school programs, Connections Academy delivers superior, personalized education for students, with the freedom and flexibility to experience our online learning community from anywhere. The combination of certified teachers, a proven curriculum, technology tools, and community experiences creates a supportive and successful online learning opportunity for families and children who want an individualized approach to education. Among the schools supported by Connections in the 2013–14 school year are 25 Connections Academy virtual (online) public schools that operate in 23 states. It serves students worldwide through the online private school, International Connections Academy. Connections Academy offers grades K through 12, though some public school programs do not offer all grades. For more information, call 800–382–6010 or visit http://www.ConnectionsAcademy.com. Connections Academy and its parent company, Connections Education, are part of the global learning company Pearson (NYSE:PSO) http://www.Pearson.com.