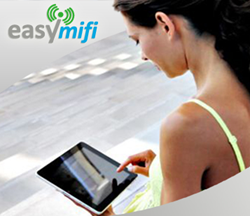 Unlimited internet wherever you go in Spain.
(PRWEB UK) 7 July 2014
According to a recent survey made to 28.000 EU citizens, 94% of Europeans who travel outside their country limit the use of services such as Facebook because of mobile roaming rates. To stop this, it seems that the authorities are beginning to legislate to adjust costs so users can lose their fear of the "roaming effect". But at this moment, what happens with the millions of tourists who visit Spain?
In response to the need to be connected to internet, Easymifi offers the rental of a wireless pocket wifi router in Spain, from less than 5 euro per day, with unlimited Internet access for up to 8 devices (smartphones, tablets, laptops, etc.). This way visitors that come to Spain can stay connected to Internet without having to worry about the overpriced roaming rates.
Its inventors, two young entrepreneurs with more than 10 years of experience in the tourism sector and specifically in the incoming area, have decided to create this low-cost service to those who use the "smartphone" to locate a restaurant, get directions to a place or keep in touch with their families. This way, they can visit Spain keeping their technological habits, without a big economic expenditure.
People can keep it in their pocket and use it 24 hours a day wherever they go; car, train, on the beach, or museums… This service allows; watch TV, Voip (Skype, Viber), Apps, etc.
The portable Wifi for travellers is delivered in hotels, apartments, villa, private residences all over Spain including the Canary and Balearic Islands, via express courier (24h), and returns can be made by courier, post (mailboxes at airports).