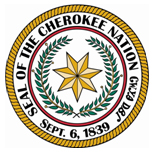 Tahlequah, OK (PRWEB) June 19, 2014
After bicycling more than 950 miles, 19 Cherokees rolled into Tahlequah Thursday afternoon to complete the 2014 Remember the Removal Bike Ride.
Thirteen Cherokee Nation students and six Eastern Band of Cherokee Indians traveled across seven states to retrace the northern route of the Trail of Tears and remember their Cherokee ancestors who were forced to make the trek on foot 175 years ago.
"We celebrate a group of exceptional young Cherokee citizens, as their journey across seven states led them back home to Oklahoma," said Cherokee Nation Principal Chief Bill John Baker. "People who witness the riders rolling through their communities along the trek often ask why our teens are doing this, and the answer is always the same. It is to remember: remember our ancestors, remember their hardships 175 years ago and, most importantly, remember their courage and resilience."
The group, ranging in age from 15 to 53, started in New Echota, Georgia, on June 1 and traveled across Tennessee, Kentucky, Illinois, Missouri and Arkansas to arrive on the Cherokee Nation Courthouse Square in Tahlequah. They were awarded medals by Chief Baker, Deputy Chief S. Joe Crittenden and Miss Cherokee Julie Thornton, and welcomed home by Cherokee leaders, family members and friends.
"I'm proud of myself and everyone else for making it," said Cherokee citizen Chance Rudolph, 18, of Claremore. "We did this ride in honor of our ancestors, to retrace their steps and learn the history of our people, who had the strength to carry on. Just as they did, we've all pushed ourselves hard to get here."
The riders visited various gravesites and historic landmarks significant to the history of the Trail of Tears, including Blythe Ferry in Tennessee, which was the last piece of Cherokee homeland the ancestors stood on before beginning the trek to Indian Territory. Riders also visited Mantle Rock in Kentucky, which provided shelter to the ancestors as they waited for the Ohio River to thaw in order to cross safely. They stopped to pray at Shellsford Cemetery in Tennessee, where Cherokees who died on the route are buried.
The Cherokee Nation started the ride 30 years ago, in 1984, as a leadership program and so that Cherokee youth would never forget the hardships of their Cherokee ancestors. Of the estimated 16,000 forced to make the journey to Indian Territory, approximately 4,000 died due to exposure, starvation and disease.
"The end of this journey is bittersweet," said Pat Watkins, 53, a member of the Eastern Band of Cherokee Indians. "I've come to know and love everyone on this ride, and I'm going to miss them. I hear people say it all the time, but this ride has given me the inner strength and clarity of situations to head into the next phase of my life. I've come through this, so I know I can get through anything."
The 2014 Remember the Removal Bike Ride is chronicled on https://www.facebook.com/removal.ride?ref=hl.
The 2014 Remember the Removal riders include the following:
Cherokee Nation
Adriana Collins, 21, Claremore
Cassie Moore, 24, Tahlequah
Chance Rudolph, 18, Claremore
Charli Barnoskie, 25, Tahlequah
Elizabeth Burns, 18, Claremore
Jamekah Rios, 17, Stilwell
Jacob Chavez, 17, Tahlequah
Jordan McLaren, 18, Tahlequah
Kassidy "Tye" Carnes, 17, Tahlequah
Keeley Godwin, 22, Tahlequah
Madison Taylor, 18, Claremore
Noah Collins, 19, Claremore
Zane Scullawl, 18, Collinsville
Eastern Band of Cherokee Indians
Katrina Sneed, 15, Cherokee, North Carolina
Kelsey Owle, 25, Cherokee, North Carolina
Patricia Watkins, 53, Cherokee, North Carolina
Richie Sneed, 46, Cherokee, North Carolina
Russell Bigmeat, 18, Cherokee, North Carolina
Ty Bushyhead Boyd, 29, Cherokee, North Carolina
-30-
Photo Cutline: (L to R) Pat Watkins, Elizabeth Burns, Jamekah Rios, Katie Sneed, Tye Carnes, Chance Rudolph, Zane Scullawl, Adriana Collins, Keeley Godwin, Cassie Moore, Charli Barnoskie, Ty Bushyhead Boyd, Russell Bigmeat, Madison Taylor, Noah Collins, Richie Sneed, Jordan McLaren, Kelsey Owle, Jacob Chavez and Ride Coordinator Joseph Erb at the Oklahoma State line.
Photo Cutline: Cherokee Nation Principal Chief Bill John Baker addresses the riders of the Remember the Removal Bike Ride during their return ceremony, Thursday.
Photo Cutline: (L to R) Remember the Removal bike riders Elizabeth Burns, of Cherokee Nation, and Patricia Watkins, of Eastern Band of Cherokee Indians, embrace each other after completing the 950-mile journey to Tahlequah.
About Cherokee Nation
The Cherokee Nation is the federally recognized government of the Cherokee people and has inherent sovereign status recognized by treaty and law. The seat of tribal government is the W.W. Keeler Complex near Tahlequah, Okla., the capital of the Cherokee Nation. With more than 300,000 citizens, 9,000 employees and a variety of tribal enterprises ranging from aerospace and defense contracts to entertainment venues, Cherokee Nation is one of the largest employers in northeastern Oklahoma and the largest tribal nation in the United States.
Editor's note: Find all the latest Cherokee Nation news at http://www.anadisgoi.com.