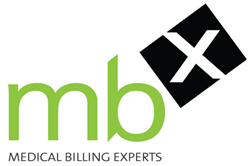 Salt Lake City, UT (PRWEB) June 20, 2014
BOSS Medical Professionals (BOSS) of Salt Lake City, UT; Premier Imaging Financial Services (PIFS) of Columbus, OH; and Six Seven Group (67G) of Charlotte, NC announced today that they have united to form a new medical billing entity called Medical Billing Experts, LLC (MBX). Together, these three businesses (BOSS, PIFS, and 67G) will align their collective strengths, including the expertly trained staff from each organization, to create a comprehensive medical billing organization that will compete on a national scale. MBX's headquarters will be based in Salt Lake City, UT with operation centers located throughout the US.
"Each of these medical billing organizations are well respected regional leaders within their respective markets," said Dave Monaghan, MHA, CEO of MBX. "The cultures, business infrastructures, and leadership styles are very similar, making this opportunity an ideal long term success strategy for all parties involved, including staff, management, and the clients of each organization."
Unique elements that differentiate MBX from other billing organizations include its sophisticated IT infrastructure and proprietary software. MBX's IT enables group practices to collect on payment for services rendered more effectively than other billing services by utilizing integrated patient communication methods to reduce the risk of these claims going to collections or ending up as bad debt. By connecting with patients through more contemporary modes of communication, MBX can increase enterprise wide billing related patient satisfaction rates, resulting in stronger relationships with payors and hospital partners.
"Complementing our IT and software is our expertly trained team of billing professionals, who consistently manage patient encounters with the highest levels of respect and empathy," said Scott Roehrig, MHA, VP Operations of MBX. "Our experience and patient centered style for managing the medical billing process is a huge differentiator for us. Anybody can bill. Not everyone can do it effectively while also improving patient satisfaction."
MBX operation centers will utilize the Imagine® software platform, proven to be a high performance platform that can be efficiently customized to meet the unique needs of physician practices, including radiology, anesthesiology, emergency, and pathology. Combined with MBX's leadership experience with the Imagine suite of product offerings, the tools available are creatively leveraged to the highest levels for each client. In addition, processes utilized by MBX are carefully monitored by dedicated compliance professionals to ensure services are consistently aligned with recommendations from regulatory agencies including the Office of Civil Rights and the Office of the Inspector General (OIG).
"The level of expertise and convergence under the MBX umbrella is unlike anything else in the medical billing industry," said Jeff Fox, MBA, VP Operations of MBX. "The synergy and like mindedness among the leaders and staff within each of the businesses that now comprise MBX has made this an easy and very logical strategic partnership from the very beginning."
About MBX
MBX approaches each client relationship as a truly integrated strategic partner, intricately aligned to help the practice accomplish its strategic objectives well beyond the scope of medical billing processes. Each member of the MBX leadership team has run successful medical billing companies in highly competitive markets. Now together under MBX, these billing experts are leveraging their collective experience to consistently deliver on a set of clearly defined expectations while establishing trusting, long term relationships with their clients.