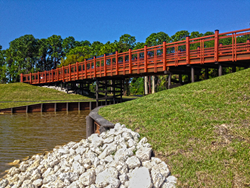 We believe a crossing isn't just to get from point A to point B. We design with the goal of creating an architectural landmark that will last for generations.
Sarasota, FL (PRWEB) June 24, 2014
Sarasota county officials have accepted the Outstanding Development Award at the Florida Planning and Zoning Association's 62nd annual state conference held on Friday, June 13, recognizing Nathan Benderson Park in its Awards of Excellence category for planning projects last year. Years in the making, Nathan Benderson Park can now boast the addition of two state-of-the-art York Timber Pedestrian Bridges as a focal point of the Parks' design overlooking the 500 acre lake. "When our Decero™ design team went to the drawing board, we knew we wanted to create something truly unique – a bigger than life feel that would make these bridges statement structures for the Benderson Development," said York's Chief Executive Officer James York. The unique "oversized" guiderails add to the wow factor of the bridges. Additionally, the chosen color scheme of the York Timber Protective Systems™ protects the bridges from nature's elements while complimenting the architectural impact of the structures. "We believe a crossing isn't just to get from point A to point B. We design with the goal of creating an architectural landmark that will last for generations." states James York.
As North America's premier 2,000-meter sprint course and regatta center, the racing facility will host the 2017 World Rowing Championships. York Bridge Concepts' designs for the timber structures will be the point of convergence for the competitor's coaches to view both the trials and the Championships. The World Rowing community will be flocking to Sarasota, where the best views of competition will be from YBC's Cooper Creek Bridge, a 15' x 70' timber pedestrian bridge with 30' and 40' spans as well as its sister bridge at Cattleman Road, a 15' x 100' timber pedestrian crossing with 3 equal spans of 33'. "We always come back to a York Bridge, there is something about them that stands out. They come from the team that thinks outside the box with great design," confirmed Mike DePriest, project manager for Benderson Development. "They knew exactly what they were doing when picking the colors and coatings for the bridge. It is unique and soothing and absolutely perfect for our Park's setting."
About York Bridge Concepts™
York Bridge Concepts, Inc. (YBC) is the nation's largest on-site timber vehicular bridge builder. YBC works with industry-leading owners and developers on prestigious projects throughout the U.S. and internationally, creating more than just a solution for crossing lakes, streams, creeks, wetlands or ravines. In this competitive real estate market, developers who want to ensure that their project stands apart from the competition use York Bridges to add value and create a feeling of exclusivity, warmth, and quality for their customers. Based in Lutz, Florida, with almost 30 years of experience, YBC has become well-known for their expertise and cutting-edge innovation in timber bridge design and on-site construction.
For more information, contact YBC at (800) 226-4178 or visit ybc.com.