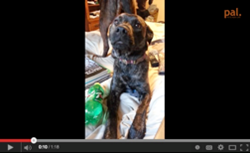 Greenwich, CT (PRWEB) June 20, 2014
Pets Add Life (PAL) is proud to introduce "Dogs HATE the Internet," featuring a talkative pup vying for his owner's attention and eager to swap the Internet for a new furry pal to talk to. The video is the latest among PAL's award-winning Talking Animals videos, all meant to encourage multiple pet ownership in a fun, entertaining way.
"We're excited for this hilarious new video to spread like wildfire and continue to encourage pet ownership in a funny, heartwarming fashion," said Bob Vetere, American Pet Products Association (APPA) President & CEO. "Not only is the video great for a laugh, but we can all relate to getting caught up in our smart phones and computers and pushing life aside. The message that pets get bored relying simply on human interaction and really do need pals to talk to is what truly makes the entire series special. Stay tuned for more to come!"
Produced by Andrew Grantham, creator of the popular "Ultimate Dog Tease" viral video and other chart-topping YouTube videos, "Dogs HATE the Internet" is the latest in the PAL series in which he takes user-generated footage of pets moving their mouths and edits them into hilarious banter. PAL's viral videos have been seen around the world and have won several awards including Strategic Video Awards, PR Daily Awards, and Webby Awards, hailed as "the Internet's highest honor" by The New York Times.
To view "Dogs HATE the Internet," visit http://bit.ly/1mMTQ1g or view the entire series on PAL' s YouTube channel at youtube.com/petsaddlife.
Founded by the American Pet Products Association (APPA), PAL is a nonprofit campaign dedicated to sharing information about how pet ownership benefits animals and people alike. PAL's mission is to increase awareness of the bonds and other rewards associated with owning pets of all types. Primarily through social media with YouTube Videos, an active Facebook campaign, celebrity endorsements and contests, PAL spreads the joys of pets, encourages pet adoption and promotes responsible pet ownership.
For more information on the PAL campaign, visit Facebook.com/PetsAddLife, PetsAddLife.org or to schedule interviews, or to request broadcast of the video, please contact Brooke Gersich at Brooke(at)theimpetusagency(dot)com.
The American Pet Products Association (APPA) is the leading not-for-profit trade association serving the interests of the pet products industry since 1958. APPA membership includes more than 1,000 pet product manufacturers, their representatives, importers and livestock suppliers representing both large corporations and growing business enterprises. APPA's mission is to promote, develop and advance pet ownership and the pet product industry and to provide the services necessary to help its members prosper. Visit http://www.americanpetproducts.org for more information.