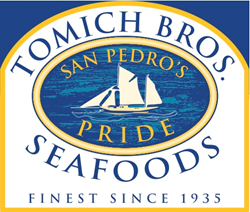 Tomich Brothers will continue to grow under his leadership.
Los Angeles, California (PRWEB) June 20, 2014
Tomich Brothers, one of the largest seafood companies in California, today announced the appointment of AEvar Agnarsson to the position of Chief Executive Officer, effective immediately, succeeding Jay Lee who will stay with the company for a transitional period.
Most recently, Mr. Agnarsson served as President and Chief Executive Officer of Icelandic Seafood, a leading seafood company in Virginia that was recently sold to High Liner Foods.
"We are thrilled to have AEvar join us," said Chris Iorillo, a founding partner at CounterPoint Capital Partners. "We could not craft a better candidate to lead this investment. AEvar was born and raised in the seafood industry and has spent his career in every aspect of fishing – from operating vessels to procurement, sales to purchasing and, most recently, leading the consolidation of a very similar industry. Under AEvar, we are confident that Tomich Brothers will continue its growth and diversification as we strive to produce extremely high quality products and distribute them throughout the world."
Commenting on his appointment, Mr. Agnarsson said, "This is an exciting opportunity. Tomich Brothers has a proud history of long standing fisherman partnerships, strong customer and vendor relationships, and deeply talented and devoted employees. I am looking forward to working with CounterPoint and its investors, the management team and employees, and all of our partners to realize many near term opportunities for significant growth and continued professionalization of this industry."
Mr. Iorillo added, "Under Mr. Lee's leadership, Tomich Brothers made significant strategic advancements, including the acquisitions of Qualy-Pak and West Bay Marketing, a number of vessel acquisitions, and the substantial upgrade of our product quality and sales efforts. He led Tomich Brothers through a challenging period of significant growth and we are very grateful for his efforts and dedication."
About CounterPoint Capital Partners
CounterPoint Capital Partners is a Los Angeles-based investment firm focused on acquiring family-owned and closely held lower-middle market companies headquartered throughout the United States and Canada with $10 million to $200 million in annual revenues. CounterPoint looks for complex situations caused by operational, succession, or financial challenges within a company or industry and, by developing a close partnership with management teams and other stakeholders, implements structural and operational improvements to put portfolio companies on a successful trajectory.
About Tomich Brothers
Located in the Port of Los Angeles, Tomich Brothers is one of the leading wetfish processors on the West Coast and has been supplying the world with seafood indigenous to California waters for over 75 years. With offloading and processing facilities in Los Angeles, Ventura, San Diego, the Monterey Peninsula and Astoria, Oregon, Tomich has the capability and the experience to handle perishable fishery products to the highest standards.