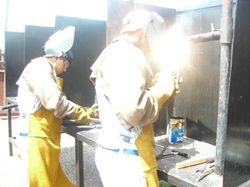 Helping our students earn industry-recognized certifications will give them a leg-up in an already competitive workforce and put them one step closer to transforming their lives.
Tampa, FL (PRWEB) June 19, 2014
AMIkids, Inc., a Tampa-based non-profit operating youth development programs across the country, has been awarded a $5 Million grant from the U.S. Department of Labor's Face Forward Initiative. The grant will provide career training for at-risk youth served by the organization's 40 programs in seven states.
The Face Forward Initiative provides funding for community service organizations to provide employment, training and support services to successfully re-integrate formerly incarcerated adults and youth involved in the juvenile justice system into their communities. Twenty-one grants, totaling more than $44 million, are being awarded for the second round of the Face Forward initiative, which combines the most promising workforce and juvenile justice strategies available to improve participants' chances of success. AMIkids is one of only four organizations across the nation awarded $5 Million in the distributions.
"This is a tremendous opportunity for AMIkids and the children and families we serve," said Mark J. Criser, National Board Chairman of AMIkids. He continued, "This grant will enable the AMIkids organization to implement career vocational programming, a key component for the success of our kids. Helping our students earn industry-recognized certifications will give them a leg-up in an already competitive workforce and put them one step closer to transforming their lives."
AMIkids has been nationally-recognized for their work. The AMIkids Personal Growth Model© has been nationally recognized by the Substance Abuse Mental Health Services Administration (SAMHSA) as an "evidence-based" model for improving the academic achievement of at-risk students and for reducing delinquent behavior. In addition, the AMIkids Day Treatment Model has been designated as a "promising model" by the Office of Juvenile Justice and Delinquency Prevention for reducing re-offending behaviors and is the only Day Treatment Model recognized. AMIkids Community-Based Day Treatment Services were cited as a "promising model" on CrimeSolutions.gov, a resource site for the National Institute of Justice, Office of Justice Programs. Most recently, AMIkids was recommended for national education accreditation from an AdvancED external review team.
"AMIkids has a highly-successful track record of helping at-risk children turn their lives around. Adding quality career training to an already proven strategy will help our kids that much more and have an even greater impact on the communities we serve, " said Lara Shane, Vice President of Resource Development for AMIkids.
In their work to help kids transform their lives, AMIkids relies on support from the local community through donations, volunteers and board service. To learn more about available opportunities or to make a donation, visit http://www.AMIkids.org.
For full information on the Department of Labor's initiative, view the news release at http://www.dol.gov/opa/media/press/eta/ETA20141195.htm.
About AMIkids
Founded in 1969, AMIkids, Inc. is a nationally recognized not-for-profit that offers a promising future to kids through positive and motivating programs that inspire learning, leadership and personal growth. Through education, counseling and behavior modification services, students are empowered to make positive decisions that will ultimately shape their future and allow them the opportunity to transform their lives. For more information, visit http://www.amikids.org.
# # #