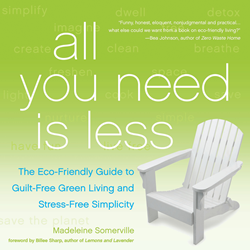 "Never accept plastic grocery bags, even if you forget your totes."
(PRWEB) June 20, 2014
Madeleine Somerville, eco-expert and author of All You Need Is Less: The Eco-friendly Guide to Guilt-Free Green Living and Stress-Free Simplicity, was featured on Care2 in an article on greening a shopping routine. Somerville suggested a never-fail way of remembering to bring reusable bags to the grocery store. Rather humorously, Somerville advises, "Take your purchases without. The reason is that this experience will be so horrific, and so infuriating, and so utterly humiliating as you load your purchases one by one into the grocery cart with the entire line-up behind you watching in bemused confusion, that it will be forever burned into your psyche … and mark my words, you will remember your cloth bags."
Other suggestions in the article included bringing glass jars to the store for bulk food, or using reusable cotton bags instead of one-use plastic produce bags. The article is very much in keeping with Somerville's All You Need Is Less, which emphasizes reducing just as much as reusing and recycling.
More about All You Need Is Less:
Top eco-blogger Madeleine Somerville's premier book All You Need is Less is full of original—and fun!—ideas on how to save money and the planet. Somerville has emerged as the voice of reason on urban homesteading that is stress-free, sanity-based and above all doable. Learn how to recycle, reuse, and most importantly reduce with tips from All You Need is Less.
Madeleine Somerville adores writing in all its incarnations, and has a popular blog at SweetMadeleine.ca. She has a B.A. in sociology and became an unrepentant, tree-hugging hippie after moving to British Columbia eight years ago. She lives in Vancouver, Canada with her husband, Adam, her baby girl, Olive, and their dog, Gus.