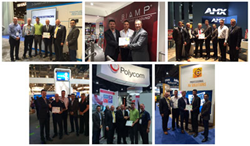 Richmond, VA (PRWEB) June 20, 2014
The Global Presence Alliance (GPA) met again this year before InfoComm for its annual meeting and released results of the Global Excellence Awards. These awards reflect the leading AV and UC manufacturers/vendors the GPA's membership wished to recognize for their commitment to delivering a superior experience.
The GPA surveyed executive, sales, and engineering ranks across each of the members around the world to rate vendors in 5 categories: product innovation, technical support, sales and marketing programs, commercial flexibility, and commitment to global deployment and support programs. This year the number of vendors nominated for inclusion and thereby surveyed increased to 37 as follows:
Acano, AMX, Barco/Projection Design, Biamp, Chief, Christie, Cisco, ClearOne, Crestron, Cyviz, Epson, Extron, Haivision, Jupiter, Kramer, LifeSize, Microsoft, Mitsubishi, NEC, Panasonic, PEXIP, Planar, Polycom, Prysm, Revolabs, Samsung, Sennheiser, Sharp, Shure, Smart Technologies, Sonic Foundry (Media Site), Sony, Tidebreak, Vaddio, V-Brick, Vidyo, and WOWVision
While all these manufacturers play important roles in the member's regional and even global enterprise offerings, the survey revealed that 6 manufacturers stand above the rest in supporting the needs of multi-national customers and the Global Presence Alliance members who serve them. These manufacturers are Crestron, AMX, Biamp, Chief, NEC and Polycom,
"The ability for manufacturers to not only provide a high level of support to our members locally, but also to provide sales and operational structures that facilitate global enterprise delivery has a big impact on our value proposition," explains Byron Tarry, the GPA Board President for 2014. "Our internal need to validate manufacturers' global approach is critical to the GPA delivery model. By sharing the data from our survey, and recognizing and heralding the commitment of those manufacturers leading the industry, our goal is to drive and incent improvement across all manufacturers in supporting the GPA and its customers."
###
About Global Presence Alliance (GPA)
The Global Presence Alliance (GPA) comprises a select group of leading audiovisual, videoconferencing and managed services solution providers worldwide, who have joined together to reduce costs, improve efficiency and enhance communication for global clients through a defined service delivery methodology. The GPA offers a community and ecosystem for knowledge share, best practices, and operational improvement among its customers, manufacturers, and members.