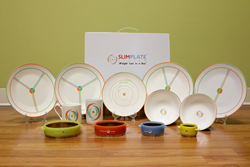 Many people using SlimPlate System to control their portions have noticed an improvement in overall health as well as weight loss.
(PRWEB) June 20, 2014
Lora-Lee Mackie was 224lbs before she started controlling her portions, and her weight had caused her to develop a catalogue of health problems, including asthma, fibromyalgia, osteoarthritis, a heart condition and issues with her kidneys. She lost 84lbs on a health kick and attributed her success to portion control as she was crowned 'Queen of Weight Loss' recently. Now at a healthy weight of 133 pounds, Ms Mackie says portion control, as well as exercise and plenty of water were some of the biggest factors in her weight loss. The doctor designed SlimPlate System of portion control says Ms Mackie's story is inspirational and urges others experiencing similar issues with obesity to factor in portion control ahead of fad diets in order to lose excess pounds the healthier way.
A spokesperson for the SlimPlate System, one of the most successful and popular methods of portion control, says, "Ms Mackie is a wonderful example of someone using portion control to turn their life around. Losing 84lbs due to portion control is no fluke, and we've seen similar results replicated in all of our clients, with the average weight loss over 3 months estimated between 14lbs and 22lbs. Like Ms Mackie, many people using SlimPlate System to control their portions have noticed an improvement in overall health as well as weight loss, giving them great incentive to strive for their goal weight and keep their bodies in prime condition."
SlimPlate System is a method of portion control that has helped many men and woman like Ms Mackie to regain their health and lose weight. Portion control is one of the most popular and effective methods to lose weight and keep it off, and the SlimPlate System helps to simplify the process so that users are empowered to take full control of their eating habits.
With four stages to follow, and a collection of cleverly designed dinnerware to help measure portions properly, SlimPlate System shuns juicing, fasting and cutting food groups for a more balance diet that triggers weight loss and keeps it off. The packages come with everything an individual needs to take control of what they eat, monitoring and controlling it carefully without any limitations on the type of food they can consume. There are no banned foods or restricted groups – even desserts are allowed with the SlimPlate System, as long as they don't exceed the recommended portion intake.
The system is designed by specialist weight loss doctors and has been accredited by physicians as a safe, healthy and sustainable way to lose weight. Each stage of the plan keeps the slimming process going, with a maintenance plate for those that reach their goal weight and want to stay there. SlimPlate System contributes to a healthier lifestyle that doesn't require an overhaul of eating habits – users of the portion control plates are encouraged to eat the same foods they usually would, so they can enjoy their favourite meals.
To find out more about SlimPlate System, visit the website: http://www.slimplatesystem.com/.
About SlimPlate System:
SlimPlate System is a four-stage weight loss program that shuns deprivation for portion control. The system, which has been designed by physicians and proven by research, is easy to implement and maintain, with no calorie counting, costly supplements or juice fads.