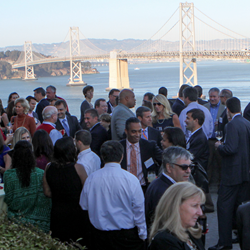 The San Francisco conference is a remarkable gathering of defense lawyers, plaintiffs' lawyers, judges, along with company and insurance carrier representatives. David C. MarshallHawkins Parnell Thackston & Young LLP
Berwyn, PA (PRWEB) June 20, 2014
Perrin Conferences released a packed agenda featuring a distinguished lineup of speakers for its 2014 Asbestos Litigation Conference: A National Overview & Outlook. The conference is set for September 8 – 10, 2014, at the Fairmont San Francisco Hotel in San Francisco, Calif.
The annual event—which has grown continuously in size and stature for the past five years— provides a forum for all parties affected by asbestos litigation. Representing a dynamic range of views and opinions on relevant topics and trends, conference speakers and attendees include many of the nation's leading plaintiff and defense attorneys, judges, insurance professionals, risk managers, and scientific and medical experts.
To view the current agenda and list of speakers, click here.
The three-day event will feature panel dialogue highlighting the complex legal implications and realities associated with asbestos litigation. Panel topics will include the latest national trends driving asbestos litigation, the lung cancer phenomenon, insurance and judicial perspectives, the impact of bankruptcy on the tort system, a corporate roundtable, a mock trial exercise, ethical considerations, and more.
The conference will be chaired by Nina Lynn Caroselli, Chief Operating Officer/Senior Vice President Claims, RiverStone Claims Management, LLC, Manchester, NH; John B. Manning, Esq., Manion Gaynor & Manning LLP, Boston, MA; Rick Nemeroff, Esq., The Nemeroff Law Firm, Dallas, TX; Joseph F. Rice, Esq., Motley Rice LLC, Mt. Pleasant, SC; and Paul Slater, Esq., Senior Counsel, General Electric Company, Fairfield, CT.
In addition to providing exclusive opportunities for learning, networking, and information sharing, the conference offers Continuing Legal Education (CLE) Credit and CE Adjuster Credit for qualified candidates.
For more information, registration, and hotel accommodations, please visit http://www.PerrinConferences.com.

About Perrin Conferences
As the leading national provider of joint plaintiff/defendant litigation conferences, Perrin Conferences offers comprehensive and specialized continuing legal education (CE/CLE) in an atmosphere of learning, networking and sharing. The company's conferences attract influential leaders and foremost talent in the legal industry to discuss current topics in litigation through mock trials, presentations and webinars, setting the standard in professional litigation education and networking.
# # #
Contact:
Martin Nee
617-670-8425
mnee@perrinconferences.com