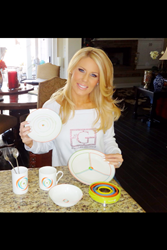 SlimPlate has been proven by physicians to be a healthy, safe and sustainable way to lose weight, and it could offer a simple and effective answer to the problem of global obesity.
Rock Hill South Carolina (PRWEB) June 24, 2014
The report shows that 13% of the world's obese people came from the US, with China and India close behind in second and third place. Many people are looking for an answer to the growing problem of global obesity, but fad diets and complicated eating plans are saturating the market and muddying the waters warns SlimPlate System, who has suggested that this mind set is creating a scenario where those who are overweight risk fuelling the epidemic further through a lack of clear nutritional guidance and reliable information.
SlimPlate System is a simple method of portion control that could help combat the obesity epidemic on a wide scale. Created by weight loss doctors and accredited by physicians, the weight loss system utilises cleverly designed plates to help people monitor and control their portion sizes, helping them to eat in a more balanced and healthy way. With a four-stage plan that facilitates weight loss of 14lbs – 22lbs in just three months, many people believe this portion control method is the best way to tackle issue of bulging waistbands.
A spokesperson for SlimPlate System says, "Obesity figures are growing increasingly worrying, and people are searching for a solution that will help trigger quick weight loss and will help them to keep off the weight. SlimPlate has been proven by physicians to be a healthy, safe and sustainable way to lose weight, and it could offer a simple and effective answer to the problem of global obesity."
He went on with tips on how to choose a right weight loss program. The weight loss program should have three criteria:
1. Easy to do;
2. Allow real food;
3. It should change your eating behavior.
He adds, "SlimPlate System is based on these three criteria. All users need is a set of SlimPlate System dinnerware, and they are fully empowered to take control of their weight – there are no costly programme fees or supplements to buy, just a simple set of plates and cups that could help combat obesity on a large scale."
Portion control is one of the most popular and effective methods to lose weight. Food portions in America's restaurants have doubled or tripled over the last two decades, and now US citizens are accustomed to super-sized meals at home. Rather than cutting out food groups or embarking on long fasting sessions to combat the effects of these oversized servings, obese individuals are encouraged to simply take control of the amount they are eating, with the help of the easy-to-use dinnerware from SlimPlate System.
SlimPlate System has four simple stages to follow, which help to trigger weight loss and maintain it once a goal weight has been reached. Each package comes with everything an individual needs to lose weight for themselves, without embarking on a fad diet or juicing for weeks on end, only to put all of the weight back on when they return to solid food. There are no banned foods or restricted food groups with the SlimPlate System – maligned white carbohydrates, vilified red meat and even desserts are all allowed, as long as the portion size doesn't exceed the amount recommended by the weight loss experts behind the plan.
The 'weight loss in a box' plan that is SlimPlate System could help people all over the world to remove themselves from the 'obese' column and change the statistics about growing.
To find out more about SlimPlate System, visit the website: http://www.slimplatesystem.com/.
About SlimPlate System:
SlimPlate System is a four-stage weight loss program that shuns deprivation for portion control. The system, which has been designed by physicians and proven by research, is easy to implement and maintain, with no calorie counting, costly supplements or juice fads.