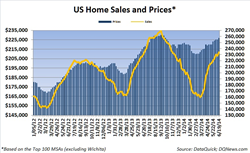 Current median home prices at 227,000, are now within 3% of their 2013 high value
Chicago, IL (PRWEB) June 19, 2014
Peoples Home Equity, in its usual coverage of DQnews.com's "National Home Sales Snapshot" was happy to see yet another weekly rise in both home sales and median home prices.
Home sales increased 2.6% week over week while median home prices rose 0.9%. This increase in weekly home sales is the 11th time in the past 12 weeks. The difference between this year's weekly home sales versus last year's sales is now just 2.5%. Median home prices are now 5.6% above year ago levels and 26.2% above 3 years ago. Current median home prices at 227,000, are now within 3% of their 2013 high value and still selling at a 17.4% discount to their all-time high value $275,000 in June 2006.
Peoples Home Equity thinks home sales actually have a shot of surprising the market and the Federal Reserve and surpass last year's weekly numbers. If incomes can rise along with mortgage rates holding their annual relative lows then home sales are set to keep rising.
Peoples Home Equity encourages prospective home buyers to get approved for a home loan now before both home prices and mortgage rate rise further. Buying a home might be less affordable in the future which is why it's critical to get approved for a home loan mortgage now to lock in a competitive rate. Readers should remember that the risk of seeing both higher rates and prices is very real considering that the market before 2007 witnessed this type of environment.
If interested in securing a competitive, lower rate mortgage, consider speaking with a Peoples Home Equity loan officer today details at: 262-563-4026