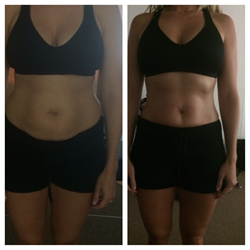 I ate clean, exercised and did everything right, or so I thought. It wasn't until I addressed the fascia that everything came together and I was able to manipulate my body, build muscle and lose the fat trapped within my cells
Los Angeles, CA (PRWEB) June 24, 2014
Those struggling to lose weight often become frustrated when diets and exercise alone don't provide them with the progress they hoped for. But Ashley Black has made monumental discoveries in weight loss. She invented a self treating fascia tool, The Fascia Blaster™, to help her and her staff more efficiently treat the clientele in her clinics ranging from NFL pre-game preparation to fibromyalgia. What she discovered almost immediately is that by opening the fascia, the clients looked smaller and the fat distribution was more physically appealing.
Black explains that to understand how fascia affects fat loss, it is important to understand basically what it is. Fascia is the connective tissue that separates muscles and runs like a cobweb through every structure of the body. When fascia becomes tight, it pulls down on every thing in its path. Black explains, "When the fascia binds to the fat and inflammation just below the skin, it sticks everything together like chewing gum. By opening the fascia, the fat redistributes and the inflammation can be moved out by the lymphatic system." The instant results are highly visible and physicians agree. Dr. Cahudri, Board Certified Plastic Surgeon, weighs in by stating, "The Fascia Blaster tool helps to break up the abnormalities of scarring within the fascia and releasing it, so the body can now take its natural shape." Dr. Vassua Rao, an Interventional Radiologist says, "Ashley Black's knowledge of anatomy is what separated her from all the rest, allowing her to do things that most people just don't understand."
Black believes that the concept is simple, explaining, "Because fascia is everywhere, it can bind to any structure in the body causing dysfunction. The fascia is like a casing and it can entrap fat causing love handles, clumpy legs, barrel tummies and fat rolls." When fascia is loosened, the immediate drop in size is due to a redistribution of fat and a reduction of inflammation. In clinical trials, clients lost up to 2 inches on their legs and 4 inches on their waist, and lumps and bumps were lessened. Olivia Henry, a consumer of the Fascia Blaster, expands, "I ate clean, exercised and did everything right, or so I thought. It wasn't until I addressed the fascia that everything came together and I was able to manipulate my body, build muscle, and lose the fat trapped within my cells."
Addressing the fascia not only has an instant result, but opening the fascia also opens the neuro-pathways allowing muscles to function properly. Clinical trials show that muscles will fire up to three times harder, as measured with EMG, once the fascia is treated and unrestricted. This is profound in the fat loss industry because having the ability to build muscle more efficiently creates muscle mass that will increase metabolic output and our ability to lose fat. WebMD reports, " Every pound of muscle uses about 6 calories a day just to sustain itself, while each pound of fat burns only 2 calories daily." Black adds, "The discovery of the role of fascia in fat loss is huge, because it's just something that has never been considered as part of the equation. Healthy fascia could be as important as diet and exercise in the role of fat loss. This is a significant breakthrough."
About Ashley Black
Ashley Black, founded FasciAnatomy in 1999, and is a renowned expert on the subject of fascia. After a flesh eating bone disease left her disabled, she healed herself using self-treatments, and has devoted her life to helping clients and training practitioners worldwide. Her client list includes celebrities, billionaires, and professional athletes, however, Black is on a mission to bridge the gap between the rich and famous and get her knowledge into the hands of every day people. Her invention, the Fascia Blaster, is an effective way to treat many common health issues such as pinched nerves, migraines, plantars fasciitis, arthritis, tendonitis, shin splints, carpal tunnel, cellulite, shoulder pain, sports performance, posture, flexibility, stress, sleep problems, strained muscles, entrapped fat, inflammation, and tennis elbow. Her website contains interesting content from the fascia perspective pertaining to virtually any topic concerning the human body.