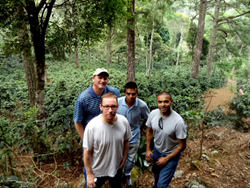 It makes sense for coffee roasters to invest in a sustainable future for coffee farmers. When our partners succeed, we succeed. It's that simple. - Greg Ubert
Columbus, Ohio (PRWEB) June 20, 2014
Working hand-in-hand with Ohio Coffee Roaster Crimson Cup Coffee & Tea, coffee farmers in the Honduran Village of El Socorro de la Penita continue to improve coffee quality and educational prospects for their community. El Socorro is one of the first communities to benefit from Crimson Cup's Friend2Farmer® direct trade program, which helps farmers to develop better coffee and a better quality of life for their community.
After sponsoring a recent service learning trip to Honduras by a group of Ohio State University students, Crimson Cup Founder and President Greg Ubert said he was pleased by the farmers' progress toward their long-term goal of transforming the local economy and quality of life.
"Over the past year, El Socorro Farmers have made significant strides," Ubert said. "In just one initiative, they've used honey-processing on a portion of their crop to improve the coffee flavor and value." He noted that achieving a higher price for El Socorro coffee is key to revving up the local economy.
Crimson Cup coffee specialists learned about honey-processing from Peruvian coffee farmers and demonstrated the technique to David Lopez, who operates a wet coffee-processing mill in El Socorro. The Ohio roaster hopes to begin offering honey-processed El Socorro coffee following the 2015 harvest.
During a 2013 service learning trip with Ohio State students, local leaders set a goal of improving the quality of education at the community's one-room Jose Cecilio del Valle elementary school. Since then, the Honduran government has assigned a second teacher to the school, which serves upwards of 70 students in kindergarten through grade six.
"I'm excited by the community's educational progress," Ubert said. "Community leaders recognize that improving education is vital to transforming their village from poverty to prosperity."
Educational advancement is another community goal. Fewer than five percent of El Socorro students pursue education beyond sixth grade, as their families cannot afford the cost of travel and tuition to attend schools outside the community.
Earlier this year, Crimson Cup raised $4,800 through an Indiegogo crowd-funding campaign to hire a part-time English-speaking teacher for the school. The roaster also partnered with students at Upper Arlington's Barrington Elementary School, who raised funds for a scholarship to help El Socorro students attend seventh grade outside the community.
During the trip, Crimson Cup expanded its relationship with the local coffee co-op, Cultivadores del Reino (Kingdom Growers). Ubert and co-op officials set up a plan for hiring the English-speaking teacher and establishing the scholarship over the next year.
Crimson Cup has been working with El Socorro farmers since 2011. In addition to paying an above-market price for local coffee, the roaster also has donated funds for new computer lab desks, a fence and other improvements at the school.
"It makes sense for coffee roasters to invest in a sustainable future for coffee farmers," Ubert said. "When our partners succeed, we succeed. It's that simple."
About Crimson Cup Coffee & Tea
Since 1991, Crimson Cup Coffee & Tea has hand-roasted specialty coffee in Columbus, Ohio and taught independent business owners how to be successful through its coffee shop franchise alternative program. Sustainably sourced Crimson Cup coffee is available through a network of more than 350 independent coffee houses, grocers, college and universities, restaurants and food service operations across 28 states, as well as the company's own Crimson Cup Coffee House in the Columbus suburb of Clintonville. For more information, visit crimsoncup.com.