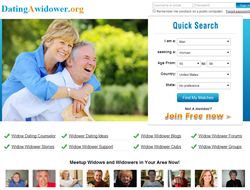 Dating A Widower and Widow at Widows and Widowers Dating Site!
(PRWEB) June 28, 2014
DatingAWidower.org, the online dating platform exclusively made for widower dating, will allow users to connect with those who have lost their loved ones and are seeking a new relationship. Successful Match has been active in the online dating business for over a decade and has adequate technology and effective algorithms to help members find a potential match with relatively greater ease.
DatingAWidower.org is an excellent stage where widowers and widows can create a profile for free and upload up to 27 photographs. Members can also browse through profiles of other users and view pictures posted by them. In addition, it also boasts of the "advance search" option that permits members to search for other users based on a wide array of parameters that include sex, age, zip or those with the same interests.
The best thing about this website is its humongous user base that further eases the process of finding an ideal match. DatingAWidower.org currently has a membership base of over 800,000 users from around the world. Furthermore, the search algorithms are impeccable and give you precise results every single time. Some of the prominent features available on the website include –

Free to create a detailed profile.
Access to the "widower dating ideas" section.
Unlimited access to forums and widower blogs.
Read widower dating stories.
Participate in discussions held on widower dating groups.
Round the clock customer support.
The Successful Match group has always prioritized privacy. This is evident from the fact that no user except for those who are logged in can view member profiles. Moreover, it also gives the option to block a user. A spokesperson from the website was quoted as saying, "We have spotted a great potential in this niche. Over a period of time we realized that there is a dire need of a widowers dating site, which could cater to the needs of those rediscovering love."
The primary objective of this website is to make dating a widower or a widow easy. Getting over a loss and beginning to look for another partner is difficult. With services tailored to meet the diverse requirements of widows and widowers, this website is certainly a ray of hope for hundreds of thousands of people from all over the world.
Visit http://www.datingawidower.org and connect with hundreds of thousands of widows and widowers like you now!