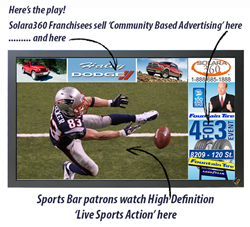 I bought a Vancouver Solara360 Franchise several months ago and now have partnerships with Denny's, Boston Pizza and numerous downtown Vancouver hot spots.This is truly unique technology.Mark Rattee' -Solara360 Franchisee
Vancouver, British Columbia (PRWEB) June 20, 2014
If you are in the advertising business, it's tough out there, says Dorn Beattie, President and CEO of Solara360, a Digital Signage Franchisor. In an age where the news, weather, an unlimited library and communication to anywhere is all in your hand and available anytime you want, it is no wonder that the casualty rate of media companies is so high. People simply don't have or take the time to view traditional advertising any more. Solara360's SCAN system is unique in that we place our own brand of High Definition LCD's in popular environments where people gather for 60 to 90 minutes to have lunch, dinner or to watch the 'game.' Our clients advertising is displayed in a repeating loop on the same screen at the same time as popular sporting events or entertainment features. A Solara360 advertiser could expect their ten second high definition advertisement to appear ten to fifteen times during a 'BIG' game on all the Solara360 LCD's in that location. "It's amazing exposure for anyones brand at a cost far less than newsprint" stated Beattie. Our SCAN system levels the playing field between Mom and Pop business trying to compete with the big guys.
"Solara360's SCAN system is Digital Signage on steroids", stated Shawn Wright, Certified General Accountant and Solara360 Franchisee. This exclusive technology creates an affordable and profitable win/win for all stakeholders. "A typical captive audience demographic profile for SCAN is 50/50 - male/female, 18 to 54, dual income, better educated and mobile. The fact that Solara360 can 'GEO Target' an ad campaign for its advertisers to be represented in the community where their potential customers live and work makes the bang-for-the-buck for an advertisers investment even more efficient. The Solara360 SCAN System, I have never seen anything like it!"
About Solara360
Solara360 is an accredited Master Franchisor in the USA and Canada and seeks global growth through Franchising its unique and exclusive technology.
Solara360 has been manufacturing its exclusive 'Dual View' LCD's in the USA to MilSpec standards since 2007 and make them available exclusively to Solara360 Franchisee. As a Member of both the International and Canadian Franchise Association's, exclusive Solara360 Franchises are available in protected areas for under $100,000.
Mark Rattee is a Solara360 Franchisee and has been an independent business consultant for many years.
Shawn Wright is a Certified General Accountant and Solara360 Franchisee.
Shawn Wright & Associates Ltd. is a Certified General Accountant firm, specializing in helping small to medium business clients obtain their business and personal goals.