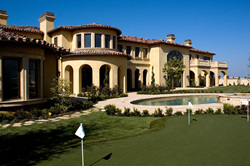 Los Angeles, CA (PRWEB) June 20, 2014
It was news to the world when Michael Jackson's estate bought the luxury home that his mother and three children had been renting since 2009. The deal closed this week for $10.750 million. But it was not news to Diko Kassabian, the designer and builder of this luxury custom home.
When Katherine Jackson moved with Prince, Paris and Blanket Jackson into a Kassabian Design/Build home in Calabasas, California, following the tragic death of Michael Jackson in 2009, the mother of the King of Pop made it clear she wanted to eventually buy the property. She liked that the home, on the most prominent ridge of The Estates at the Oaks, felt both open and safe. She told Diko Kassabian that she appreciated its coziness and hominess. This airy, open feeling that is signature to Kassabian Design Build homes is exactly what Oprah Winfrey commented on during her interview with Paris in 2012.
Despite its majestic size—some 12,670 square feet—the Jackson family home, originally built on spec in 2008, was created without supersizing the individual rooms. "It doesn't have that massiveness that makes a place feel cold," says Diko Kassabian. "And there's an organic flow from one room to the next."
Perched on just under an acre of land, the house features 8 bedrooms, each with its own bathroom; a pub; a theater; a sauna; a pool; a hot tub with Jacuzzi; a putting green; a library, and covered patios off every room of the house. The Tuscan style was inspired by a trip to Italy. The design of the grand entry was one of the tougher aspects of the project, Kassabian recalls. "I was originally thinking of something along the lines of the Arc de Triomphe, in Paris," he says. "But it just wasn't working. Then, in a taxi at 4am en route to the Rome airport, I saw this amazing arched entrance to a park. I knew it was what I needed for this house."
Kassabian's educational background, which includes not just architecture but also urban planning, gives him a big-picture perspective on celebrity dream-home projects. Special requests he has accommodated for past clients include a helicopter pad discreetly tucked into a corner of an estate; an underground showroom for a collection of rare and vintage cars; and solar panels hidden almost imperceptibly on a hillside of a custom home. "It's important for the home to fit contextually into its environment," Kassabian says.
The homebuilder to the stars is thrilled that Katherine Jackson and her three grandchildren are now more securely ensconced in their dream home. "We both had a good feeling this day would come," he says.
###
About Diko Kassabian:
With an undergraduate degree in Architecture and a Master's Degree in Urban Planning, both from University of Southern California, Diko Kassabian, is the go-to celebrity homebuilder in the luxury real estate sector of greater Los Angeles area. Establishing Kassabian Design Build in 2000, he has designed and overseen projects from a modest 500-square-foot addition to a 14,000-square-foot custom home. Though he has done some work as a developer, his focus and passion is the designing and building of dream homes and estates. Kassabian and his wife, Andrea, are active in cultural and youth charities in Southern California. They have three children.
For more information on Diko Kassabian or Kassabian Design Build, please visit http://www.kdesignbuild.com
Press Contact:
Michelle Vink
VinkMedia
michelle(at)vinkmedia(dot)com
310.779.4000