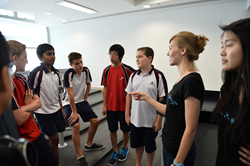 An appreciation of the arts and music are an essential part of a well-rounded education.
Singapore, Singapore (PRWEB) June 24, 2014
For more than 100 years, a cappella singing has been one of Yale University's most honored traditions. These days it's a tradition that spans continents with the all-male Wiffenpoofs and the all-female Whim n' Rhythm enjoying a global audience through their annual world tours.
This year's tour finds Whim n' Rhythm - known as Whim - once again in Singapore and at Stamford American International School (Stamford) to share their musical knowledge with Stamford's student choir.
Whim's current world tour will take them across the United States, to Europe, the Middle East and Asia. The all-senior student group consists of 14 of the best and most experienced female singers at the University. Whim has performed in over 15 countries including performing at the White House. Their musical repertoire ranges from upbeat jazz numbers to classic show tunes, from contemporary pop hits to traditional ballads.
For many of the group, the visit to Singapore will be a first, but Singapore holds a special place in the heart of one of the group's members. Allison Bryant is originally from Boise, Idaho but found herself quite taken with Singapore after visiting with another a cappella group. Bryant wanted to work in museums and was impressed by the scope and variety of museums in Singapore.
As a result, Bryant found a summer position in Singapore as a Programs Intern at the Peranakan Museum and also spent some time at the Asian Civilisations Museum. She recalls fondly, "This was the year that the Peranakan Museum had an exhibit on Emily of Emerald Hill and put on a performance starring Margaret Chan. I loved learning about Peranakan culture and I'm so excited to bring Whim to Singapore!"
Mr Andrew Hancock, Academic Dean of Stamford, said it was a privilege to host the world famous group at the school. "An appreciation of the arts and music are an essential part of a well-rounded education. Seeing a performance by a world class group such as Whim and having the opportunity to learn first-hand from them helps inspire our students to pursue their musical dreams."
"The performance and workshops given by Whim n' Rhythm are part of an ongoing Visiting Artists Program at Stamford, giving students access to artists and performers from a range of backgrounds and disciplines," said Mr Hancock.
ABOUT WHIM 'N RHYTHM
As of 1981, Yale University's vibrant a cappella scene featured a dozen underclassman groups of every variety. However, seven senior women felt that a key part of their musical experience was missing – a senior women's group. These seven seniors founded Whim n' Rhythm as an answer to the decades-old tradition of the all male group, The Whiffenpoofs. Thirty-three years later, the 14 singers of Whim n' Rhythm represent the best and most experienced female musicians of the senior class.
ABOUT STAMFORD
Stamford American International School (Stamford) is the new benchmark for excellence in international education in Singapore. With its experienced team of educators, cutting-edge facilities and rich cultural diversity, there is no better way to prepare students for a competitive and fast changing world.
Stamford's academic curriculum prepares students for entry into the world's top universities. Stamford is the first school in Singapore to offer students both the International Baccalaureate (IB) Diploma and the American High School Diploma – giving students an international experience with an American foundation. Stamford also excels in the teaching of languages offering Mandarin and Spanish classes on a daily basis, beginning when students are as young as 2 years old.
Stamford's $300 million campus at Upper Serangoon Road is the most advanced learning environment ever built. The facility features state of the art technology and facilities that establish it as the benchmark for international schools around the world. The campus is the largest investment in a Kindergarten to Grade 12 education facility anywhere in the region, and a major economic injection into the Singapore economy. The new campus is designed to be the perfect environment for preparing children for careers in the 21st century.
Key features of the school include:

iLEarn - Singapore's first interactive learning environment where guest lecturers and teachers from around the world can interact with students.
Singapore's first 1-to-1 iPad Program for Kindergarten 2 to Grade 5 & MacBooks for Secondary School students
A 21st century Media Resource Centre - beyond the traditional library, this centre is up to date with the latest traditional as well as technological resources
State-of-the-art science wing and computer laboratories
Comprehensive art facilities
World-class sporting facilities
Specially designed Early Years/Nursery facilities
ABOUT THE A CAPPELLA SOCIETY
The A Cappella Society Ltd is a registered charity organisation whose mission is to promote the appreciation and exploration of vocal music in Singapore across all age, gender, religious, and educational groups, and to establish itself as the resource and training centre for vocal and a cappella music in Singapore. Since its inception in 2001, we have grown into one of the leading arts groups in Singapore.
All information in this press release is correct at time of publishing. For latest update, please refer to http://www.a-cappella.org.sg, or email contact(at)a-cappella(dot)org(dot)sg.