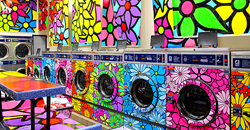 Portraits of Hope embraced the opportunity to team with Gain and P&G for these very festive, first-of-their-kind, Laundromat makeovers, and involve hundreds of children and adults in neighborhoods so near the Laundromats themselves.
New York, NY (PRWEB) June 21, 2014
In its latest public art and civic initiative, Portraits of Hope http://www.portraitsofhope.org has partnered with Gain https://www.ilovegain.com/flings to enliven and visually energize NY Laundromats and Lavanderias through summer 2014. Laundromats in the Bronx, Washington Heights and East Harlem now beam vibrant colors and floral designs throughout their interiors -- on ceilings, walls, washers, dryers, floors, and tables. Traditional to Portraits of Hope projects, children and adults have participated in the program's creative therapy and civic leadership sessions in schools, hospitals, and social service institutions in which much of the art for the project was created.
This public art and civic initiative culminating in the beautification and visual enhancement of the Laundromats is a continuation of Portraits of Hope's large-scale, national projects which have visually transformed and brightened public settings and symbols ranging from the NYC taxi fleet, blimps, planes, and buildings to LA's coastal lifeguard towers, NASCAR race cars, and frontline fire and rescue vehicles.
Traditionally, Portraits of Hope selects iconic public settings and symbols for its visual makeovers that people routinely take for granted or expect to be "the same as they've always been." Here, Portraits of Hope teamed with Gain and Procter & Gamble and picked a set of locations that are universally taken for granted: Laundromats/Lavanderias. These public venues are destinations for millions of people -- and in urban areas, Laundromats also do double-duty as mini-social centers where adults with their kids spend hours. Portraits of Hope and Gain decided to change the visual dynamic of that experience and add positive energy to those settings.
"Portraits of Hope embraced the opportunity to team with Gain and P&G for these very festive, first-of-their-kind, Laundromat makeovers, and involve hundreds of children and adults in neighborhoods so near the Laundromats themselves." said Ed Massey, Portraits of Hope co-founder.
After visiting 170 NYC Laundromats as potential sites for the makeovers, Portraits of Hope selected six; four in South Bronx and two in upper Manhattan: Washington Heights and Spanish Harlem.
The vibrantly hued art is floral themed -- as the flower is the universal symbol of beauty, joy, life, and renewal.
For the Laundromat initiative, Ed Massey http://www.edmassey.com designed special exhibition elements including chandeliers, freestanding lamps, laundry baskets, carts, fountains, corn hole boards, and recycling containers to enliven the makeovers.
"It's about taking a mundane task, and making it joyful," said Mark Jeffrey, associate marketing director of P&G, the parent company of the Gain laundry brand.
The 2D and 3D art and designs in the Laundromats are everywhere -- whether looking up, down, forward, back, or side to side -- making these NY Laundromats the most unique and festive anywhere.
In connection with the Laundromat exhibition, Gain is distributing its Gain Flings and other laundry products and prizes to customers and the community as part of a give-away program.
Background:
Portraits of Hope conceives and develops high-profile motivational art projects that merge the production of dynamic public art works with creative therapy for hospitalized children and civic education for children of all ages.
Special Portraits of Hope brushes and methodologies have been developed for children and adults with illnesses and physical disabilities, including telescope brushes for those in wheel chairs or attached to IVs, shoe brushes and fruit-flavored mouth brushes. For persons visually impaired, Portraits of Hope utilizes special textured paints.
In schools, Portraits of Hope participants engage in interdisciplinary education sessions in which students assess and communicate their thoughts on issues affecting their communities and the world, including: civic leadership, education, health care, the environment, foreign aid, and senior care. The larger art collaboration is a group effort to demonstrate tangibly the power of community teamwork and civic engagement.
Founded by Brothers Ed Massey and Bernie Massey, Portraits of Hope has engaged tens of thousands of children and adults in huge civic collaborations - in the U.S. and abroad – and involved nearly 1,000 hospitals, schools, and social service programs in its projects.
The exhibition runs through summer 2014 – or until a later date determined by the participating Laundromats.
Locations:
1. Up All Night Laundromat, Washington Heights
2. All Clean Laundromat, East Harlem
3. Happy Family Laundromat, Bronx
4. 3rd Ave Laundromat, Bronx
5. Super Coin Laundromat, Bronx
6. Clean Circle Laundromat, Bronx
Portraits of Hope is extremely grateful to Procter & Gamble and Gain for exemplifying strong civic spirit in making the project possible and for sharing the project's themes and goals which propelled the beautification of these community Laundromats. "Core to Portraits of Hope is instilling pride in children, many who may be dealing with life challenges, illnesses or disabilities and providing them with the opportunity to say 'I did that,' through their participation in ambitious civic collaborations" said Bernie Massey, co-founder of Portraits of Hope."
Portraits of Hope is very glad to acknowledge Hudson River Park and its staff which have been involved in three POH projects; MACtac http://www.mactac.com which has provided top performing adhesive material for multiple POH national projects; and Laird Plastics http://www.lairdplastics.com/, national materials suppliers, who provide great product know-how, recycling capabilities, and civic spirit.
Following this project, Portraits of Hope sets its sights on producing a national animal welfare initiative that will culminate in beautifying the exteriors and interiors of animal shelters -- to make them more appealing and inviting places to adopt dogs and cats – and help save the lives of companion animals.
For more information and to get involved, partner with, or support Portraits of Hope contact Stephen or Sara at 310-474-5141or go to https://www.facebook.com/pages/Portraits-of-Hope/162666860449752 or http://www.portraitsofhope.org
###