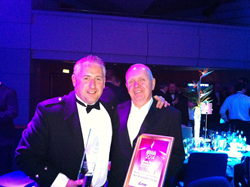 Star have achieved temperatures previously thought impossible. This alone should bring heatpumps closer to the entire market.
(PRWEB) June 20, 2014
The nomination saw Star go up against the likes of industry giants such as Daikin, Mitsubishi and Danfoss, making the win a truly outstanding achievement.
The judges said: "Star have achieved temperatures previously thought impossible. This alone should bring heatpumps closer to the entire market, but in doing so with only "future proof" natural working fluids is even more spectacular. As the Drammen project proves, any building in Britain can harness local heat and avoid burning gas."
Dave Pearson, Director at Star Renewable Energy says: "I am delighted to accept the award on behalf of the Star Renewable Energy team. The projects we have completed really demonstrate that heat pumps have now become environmentally and economically viable and should no longer be associated with smaller systems typically limited to 45°C."
"The technological advancements of the Neatpump in Drammen have revolutionised the way factories, hospitals, universities and houses can and should be heated. By harnessing local heat we can achieve a triple dividend of reduced environmental impact, reduced cost and the increase in local jobs."
According to official statistics, heating accounts for approximately 50% of all energy consumed in UK, which equates to Britain's annual £33 billion bill spend on heat alone, making it responsible for around a third of the UK's greenhouse gas emissions. Industrial heat pumps have the capacity to harvest energy at a ratio of up to 4:1 or 5:1 vs 'drive fuel consumed' which represents colossal savings, both financially and environmentally.
Technological advances in heat pumps are bringing the UK closer to our carbon targets challenge as it reduces the need to burn fossil fuels, which is how 80% of our heat is produced today. Pearson said: "The advent of natural heat pumps that take warmth from natural water sources and deliver zero carbon heating will be remembered as a landmark event in the fight against not just climate change, but rising economic pressures of combusting fuel."
With climate change gaining rapid momentum as one of society's hottest topics, the time has never been more imminent to develop technology that eases the burden on the natural environment and helps preserve the earth for future generations. The company's investment in research and development was also rewarded with the influential Rittinger Medal by the International Energy Agency in Montreal last month. The British engineering team received the medal in recognition for the efforts in developing the breakthrough heat pump technology in Drammen that is large enough to warm 6000 homes, cut CO2 emissions by 14,050 tonnes a year and save UK households a huge £1500 on energy bills.
Star Renewable Energy is the recent business venture of Star Refrigeration, the UK's largest independent industrial refrigeration engineering contractor.
As a company renowned for its pioneering developments and boundary pushing approach, it comes as no surprise that Star Refrigeration is behind the revolutionary new natural fluid district heat pump technology.
To find out more about Star Renewable Energy and the incredible work being done towards cutting fuel costs, reducing carbon emissions and combating climate change, please visit: http://www.neatpump.com.
About Star Renewable Energy: Based in Scotland, Star Renewable Energy is the innovate business enterprise of leading UK heating and cooling specialists, Star Refrigeration. The company has received widespread recognition for its development of world's largest 90°C ammonia district heat pump, culminating in the acceptance of the Public Sector Project of the Year award.
About Star Refrigeration: Established in 1970, Star Refrigeration lead the way in natural, environmentally friendly refrigeration and heating technology. Working closely with its customers, the company strive to offer a comprehensive range of cost effective, eco-friendly and socially responsible heating and cooling solutions to suit a variety of different business needs.