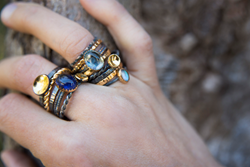 A simple embellishment can go far to enhance a woman's individuality and poise.
Boston, MA (PRWEB) June 20, 2014
Metalsmith and enamel jewelry designer Jenne Rayburn is having a Summer Trunk Show at the Newbury Handmade Market in Boston, Massachusetts on Friday June 20th, Saturday June 21st and Sunday June 22nd, through Thursday June 26th, from 11pm to 7pm daily. The Trunk Show will be part of the Local Handmade Etsy Craft Market at 301 Newbury Street. Rayburn will be showcasing her handcrafted jewelry collections as well as one-of-a-kind Statement Necklaces.
Rayburn will have new work available all summer at the Newbury Handmade Market, as one of 45 Etsy artists from the greater Boston arts community. From May 30th through August 3rd Boston Etsy Artists are bringing the virtual marketplace to life, giving customers a chance to shop from a wonderland of unique gifts across a range of categories including jewelry, art, fashion, kidswear, quality vintage items and homewares. The Newbury Handmade Market is located at 301 Newbury St., Boston. Open daily Monday-Sunday 11 a.m.-7 p.m.
Jenne Rayburn, a Boston based jewelry designer, will present a collection of unique and feminine contemporary jewelry featuring personally selected antique treasures and gemstones handcrafted with sterling silver and 14k gold. For women who see themselves as unconventional, yet have a sense of tradition and who are imaginative and a little rebellious, but still classic and timeless, Rayburn makes jewelry just for them. "For me the creative process is about making connections; reconsidering, remixing and reimagining what is possible," says Rayburn. "I source unique jewelry and components while traveling around the globe, and tap local resources for rare and limited edition material, to create collections that are modern and antique at the same time." Each piece is an original design and handmade.
This is a unique opportunity to meet Jenne Rayburn and other Etsy artists in person. Shoppers will have a local handmade destination shopping experience, in downtown Boston, to see and touch the artist's work, and to learn about the art directly from the artisans.
Newbury Handmade Market
301 Newbury St., Boston, MA
Open daily Monday-Sunday 11 a.m.-7 p.m.
For information on complete artisan line-up and market events visit http://www.newburyhandmademarket.com.
Visit Jenne Rayburns collections http://www.jennerayburn.com.
Visit Jenne Rayburn on Facebook http://www.facebook.com/Jenne.Rayburn.
About:
Jenne Rayburn is a Boston-based jewelry/textile artist who also studied interior design and architecture, and her work explores the convergence of architecture, design, technique and identity. Balancing the demands of a career and a growing family, Jenne is a mother, wife and daughter who designs for her and all the women in her life who want to feel uniquely beautiful and powerful. It is her hope that the wearers of her pieces will find joy in a delightful artistic statement, and also something that enhances their individuality and confidence. Her work is suitable for wedding jewelry and is carried in local galleries and online. Please visit http://www.jennerayburn.com. For wholesale information, please visit jennerayburn.com/wholesale.com.
###