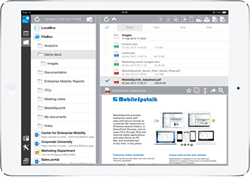 Moscow, Russia (PRWEB) June 23, 2014
MobileSputnik for Citrix provides secure access to corporate information assets with on-premise deployment and smooth integration into an existing enterprise IT and information security landscape. MobileSputnik for Citrix ensures a rich toolset for document access, viewing, editing, sharing, and management on tablets, giving users familiar PC capabilities and providing rich functionality, usability, and security while working with corporate files at any time in any place.
"Citrix Worx Mobile gives a broad set of mobile tools for business," said Sergey Orlik, Managing director of MobilityLab. "Certification of MobileSputnik done within the Citrix Ready Worx Verified program ensures compatibility with Worx enterprise applications. With data encryption, password verification, data blocking, and wiping tools implemented by the Worx App SDK toolkit, users of MobileSputnik can be sure about the safety of mobile work within an enterprise environment."
"We welcome extension of the Citrix Worx App Gallery for solutions from the Russian companies, which are able to take into account the specifics of the local market," said Sergey Khalyapin, Head of System Engineers and Consultants at Citrix Russia and CIS. With the reach capabilities of Citrix Worx ,our customers will be able to receive all that is so appreciated when working with corporate information – secure access to data and applications from any device at any time."
For more details on MobileSputnik for Citrix, please visit the Worx App Gallery at https://www.citrix.com/ready/en/mobilitylab-llc/mobilesputnik-for-citrix.
The product is also available from iTunes at https://itunes.apple.com/ru/app/mobilesputnik-for-сitrix/id721803104?mt=8.
To see MobileSputnik for Citrix in action, visit http://www.youtube.com/watch?v=Ki74xKDw4uM#t=43.
About MobilityLab:
MobilityLab was founded in 2011 with one of the oldest and leading Russian information technology and system integration organizations, the I.T. Group of companies. MobilityLab is an independent software vendor focused on developing the next generation, out-of-the-box enterprise mobility solution – MobileSputnik. MobilityLab has been a resident of the SKOLKOVO IT Cluster since 2012.